Tip: Select any of the images or GIFs in this article for a closer look.
Growing your subscriber list is an essential part of a strong SMS strategy, and Postscript offers several creative ways to add SMS list growth opportunities throughout your marketing efforts.
In this article, we are going to introduce growing your list using Facebook.
Why You Should Grow Your List With Facebook
---
Reach followers who are already interested and engaged with your brand.
Use keyword calls to action or opt-in links in Facebook posts.
Create an opt-in form experience using Facebook Lead Ads and have the opt-in experience appear throughout a follower's Facebook browsing session.
Using Keywords on Facebook
---
Keywords are a quick and easy way to collect subscribers on Facebook. We suggest the below recommendations when using keywords on Facebook that will help your efforts stay compliant.
Use a unique keyword for each Facebook post, giveaway, or promotion. By unique, we mean you should not advertise this keyword elsewhere--on your website, popups, or other SMS social campaigns. 
A unique keyword allows you to know which subscribers opted in via a specific Facebook post or lead ad.
Keep a screenshot of the post. This allows you to show that, while advertising this keyword, you displayed the correct compliance language (more on that below).
Facebook Posts
---
Facebook posts give you visibility across your follower's feeds and within the community you've built if you have a brand group.
Post in your customer community or on your company page and use the space to offer discounts, promote a giveaway, or tease your VIP SMS club.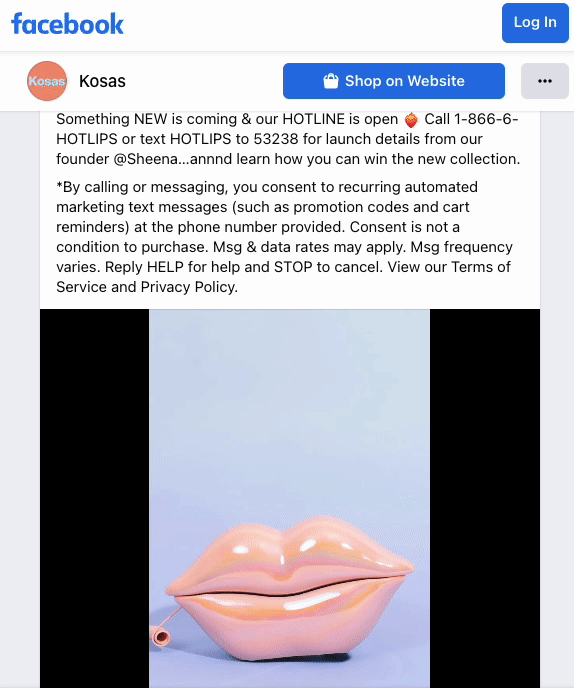 Important compliance-related things to keep in mind:
If posting a keyword and your short code or phone number in the text portion of your post, you must include TCPA-compliant language beneath the call-to-action (i.e., Text DOGGONE to 56342).
If including any images in your post that display the keyword and your short code or phone number, you must also include TCPA-compliance language beneath the call-to-action.
You have two options when offering opt-in via a link:

Use Postscript's opt-in link to direct desktop followers to a compliant opt-in form. On a mobile device, this same link will launch the device's native messaging app with the keyword pre-loaded to send. 

If using Postscript's opt-in link, you still need to include TCPA-compliant language beneath the call to action.

Link followers to a dedicated landing page with an embedded opt-in form. For both mobile and desktop followers, this link will launch a TCPA-compliant opt-in form you've previously created and embedded on your website.

If using an embedded form with TCPA-compliant language, then you do not need to include this compliant language in your Facebook post.
Facebook Lead Ads
---
Facebook Lead Ads are an easy way to showcase a product, user-generated content, and more as well as provide a call-to-action button that walks followers through an opt-in flow within Facebook.
View the tabs below to walk through the various steps of setting up a compliant Facebook opt-in experience.
You'll first need to create an ad using Facebook Ads Manager. If you need assistance with this step, you can follow along with Facebook's Create a Lead Ad from Ads Manager article.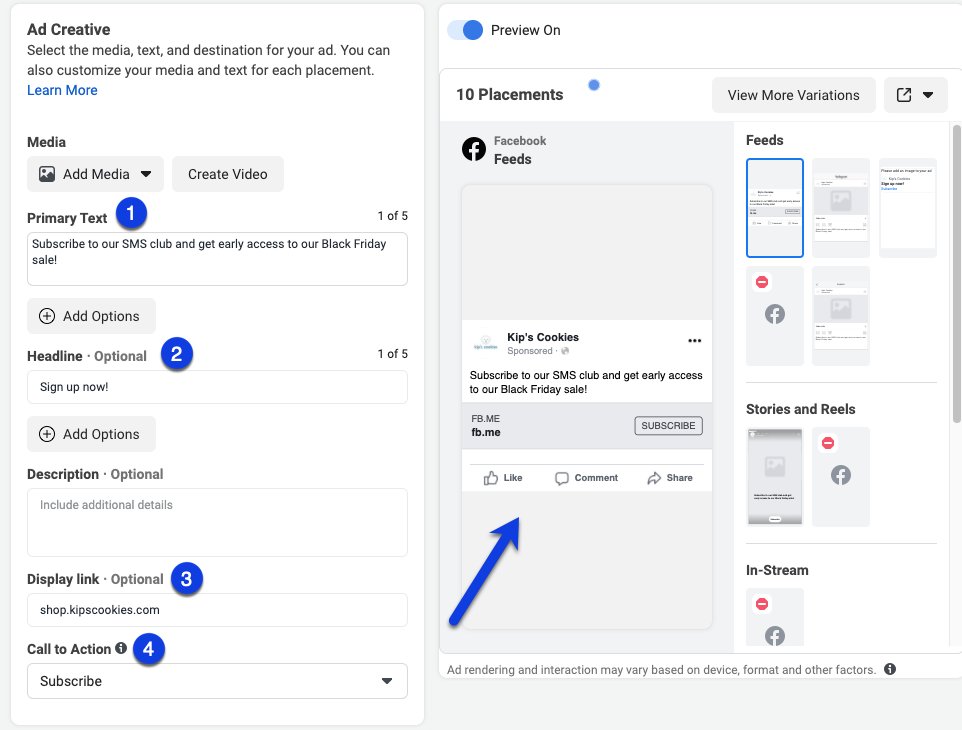 We recommend the following under the Ad Creative section:
Use the Primary Text field to enter your main call to action or value proposition. Make sure to include a reference to subscribing as part of the action (i.e., Subscribe today and get early access to our Black Friday sale!)
Use the Headline field to provide another clear call to action (i.e., Sign up now).
Enter your store URL in the Display Link field.
Select either Sign Up Now or Subscribe from the Call to Action drop-down.
Next, you'll create a form that will load when a follower selects the Subscribe or Sign Up Now button.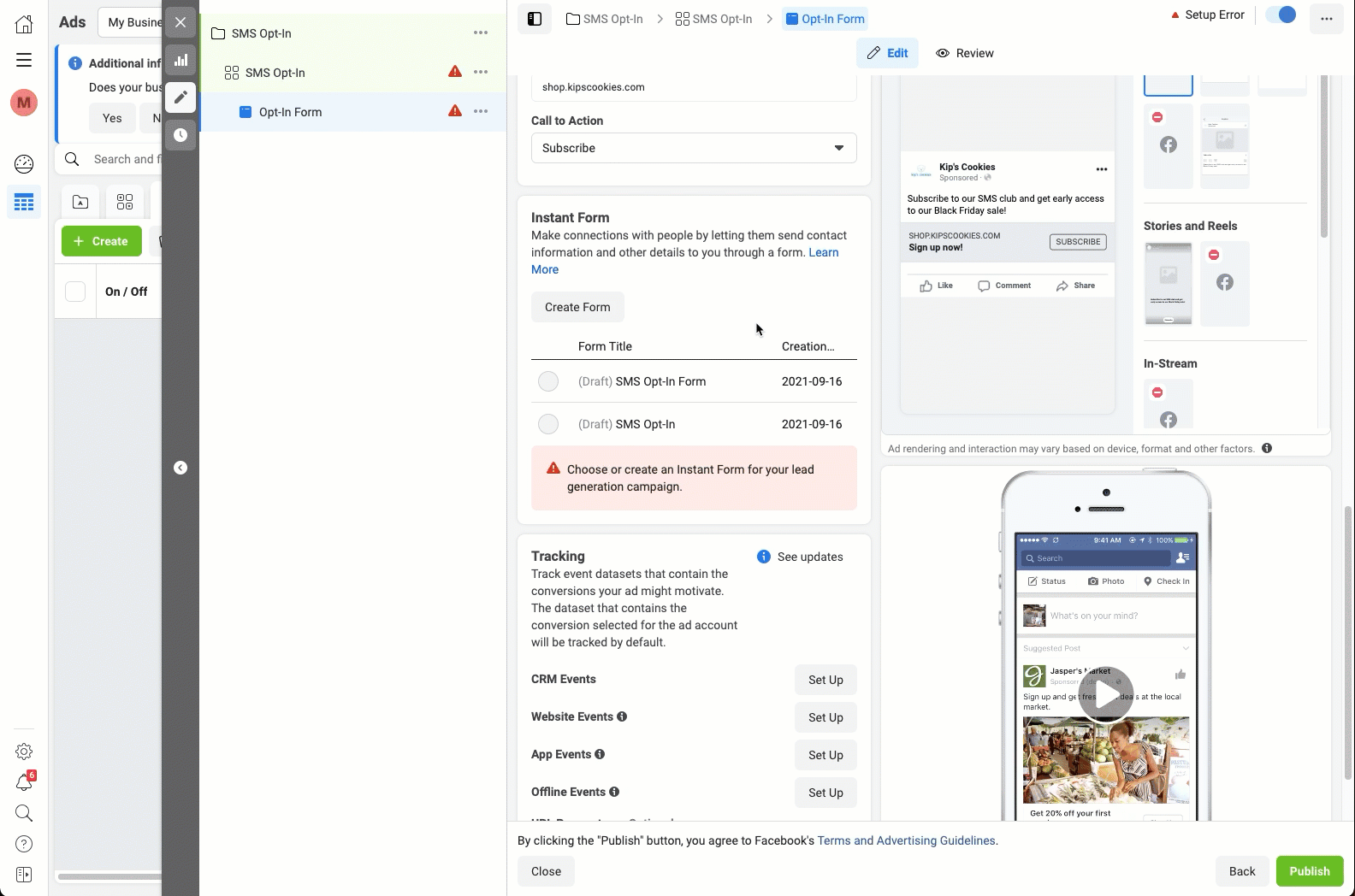 In the Instant Form section, select Create Form.

On the Settings tab, ensure your form is set to Restricted.
Give your form a Name.

In the Form Type section, select More Volume.
In the Intro section, enter your call to action or value proposition in the Headline field. 

Make sure to include a reference to subscribing as part of the action (i.e., Subscribe today and get early access to our Black Friday sale!)

In the Questions section, delete any existing questions. 


Select + Add Category drop-down.
Select Contact Fields and then Phone Number. 

In the Privacy section, enter the Link and Link Text (i.e. View our Privacy Policy) in the corresponding fields.

Select + Add Custom Disclaimer.
Enter SMS Program Terms in the Title field.
Enter the TCPA-compliant language listed at the bottom of the article in Text field. Since you cannot link out to your Terms of Service and Privacy Policy, type out the full URL for both.
Select + Add New Consent.
Enter Sign up for news and updates via text message in the Consent field. 
Consent is required, so do not select the Optional checkbox.

In the Completion section, let the subscriber know they'll receive further communications via text in the Description field. 
You can Save your draft, or Publish if you are ready. Use the slideshow arrows in the top-right corner of the popup to preview the various screens in the opt-in flow.
Your final step is connecting Facebook to Postscript via Zapier and Postscript's API. This ensures that when a subscriber opts in using your Facebook ad, they flow through to Postscript.
We'll walk through how to set up your Facebook ad as a trigger event below.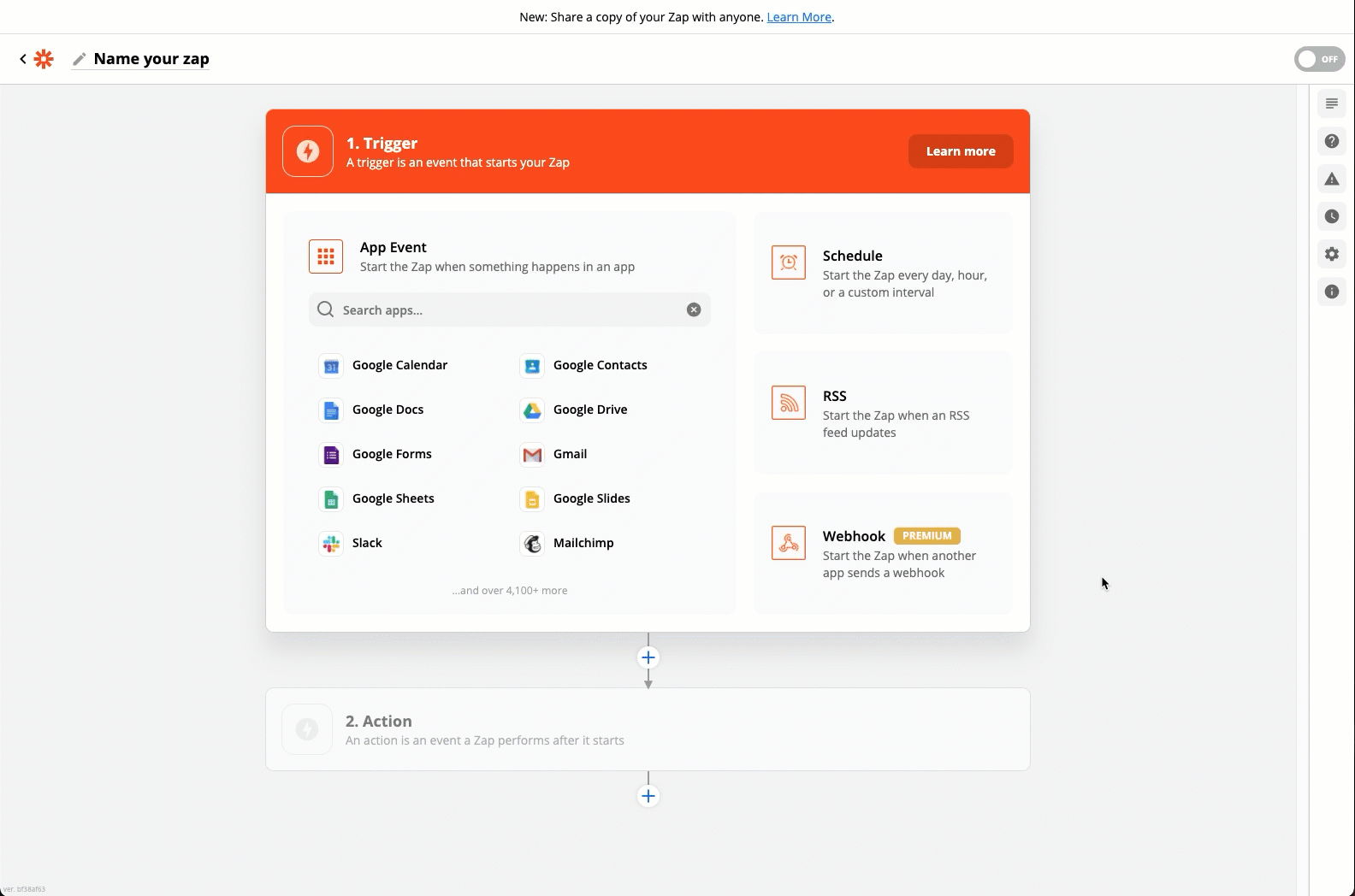 Search for Facebook Lead Ads in the App Event search field.
For your trigger event, select New Lead.
Next, connect your Facebook account to Zapier. Facebook walks you through this via a login popup. Once connected, select Continue.
Select the form you created for SMS opt-in from the Set up trigger form drop-down, then select Continue. 
We recommend you Test your Trigger. Zapier will pull a sample lead and display the data to show the two accounts are connected.
Once you've set up your Facebook ad trigger, you can set up the resulting action webhook using Postscript's API. Follow these instructions to finish the process.
Compliance Language Requirements
---
When collecting subscribers, the TCPA requires you to include necessary compliance language that informs visitors that they are opting into SMS messaging from your store. 
Here's the TCPA-approved compliance language:
*By providing your phone number, you agree to receive recurring automated marketing text messages (e.g. cart reminders) from this shop and third parties acting on its behalf. Consent is not a condition to obtain goods or services. Msg & data rates may apply. Msg frequency varies. Reply HELP for help and STOP to cancel. You also agree to the Terms of Service and Privacy Policy.
Note: In order to collect subscribers compliantly, your shop's Terms of Service and Privacy Policy need to be hyperlinked in the language shown above. If they cannot be hyperlinked, the full URLs of each need to be included so a viewer may search your terms or privacy policy if needed.
For example, "You also agree to the Terms of Service (https:/myshop.com/terms-of-service/) and Privacy Policy (https://myshop.com/privacy-policy/)."
You should now be all set to grow your list with Facebook!
Get Support
---
Have questions? Please feel free to reach out to our wonderful Support team at support@postscript.io or via live chat. You can also submit a support request here!
Need ongoing channel strategy guidance? Please fill out this form and we'll connect you to one of our certified partners.