The SMS marketing landscape is ever-changing, including the compliance policies set by the carriers (Verizon, T-Mobile, and other companies that deliver text messages).
At Postscript, our most important job is helping you stay compliant with your SMS marketing. We are in constant communication with the carriers in order to know when these changes are coming, proactively implement changes to our platform, and give you as much notice as possible. 
What's Changing and When
---
In early 2021, Postscript was notified that carriers made an update for what they consider to be proper SMS opt-in consent for popups, forms, and landing pages:
"Opt-in stands alone and is not displayed with other forms of communication (email, voice calls, etc)." What this means is the email field and the phone field need to be entirely separate calls-to-actions.
This is an industry-wide regulation; these policies are not driven by Postscript and they will affect every SMS platform. 
The below popup shows the two-step popup process: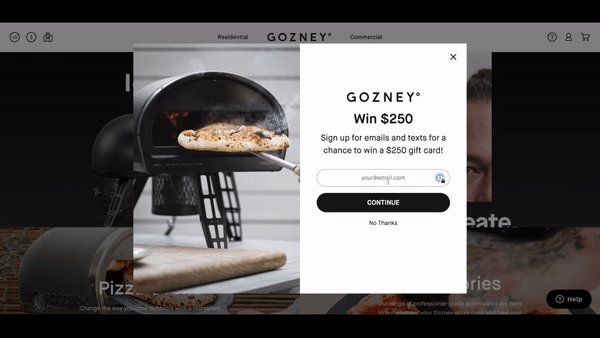 Forms, such as embedded or giveaway forms, and landing pages must also follow the same two-step process:
What's Next
---
To remain in compliance, please ensure any of your popups, forms, or landing pages have two separate opt-in screens. If you need time to rework your collection units, below are some immediate options:
Disable any popups, forms, and landing pages (for now) and then work with Postscript to bring it back live compliantly. 
Replace non-compliant popups with a Postscript popup. Postscript's popups are consistently updated to remain compliant as policies and regulations shift.
Forgo your short code (DSC or TFN) and keep any popups, forms, and landing pages for now, but plan to make this change as soon as possible.
Please contact our support team or your Customer Success Manager if you run into any trouble. We're happy to help!
Get Support
---
Have questions? Please feel free to reach out to our wonderful Support team at support@postscript.io or via live chat. You can also submit a support request here!
Need ongoing channel strategy guidance? Please fill out this form and we'll connect you to one of our certified partners.