Postscript integrates with Swapt, allowing you to share information between the two solutions.
About Swapt
---
Swapt enables simple offline 1st party data acquisition and allows businesses to make intelligent marketing decisions to engage, acquire, and nurture new and existing customers.
How a Swapt Integration Benefits You
---
With Swapt, you can dynamically set coupons for different offline campaigns.
Grow your list by connecting your Postscript keyword to your Swapt landing page.
Create a Postscript Keyword
---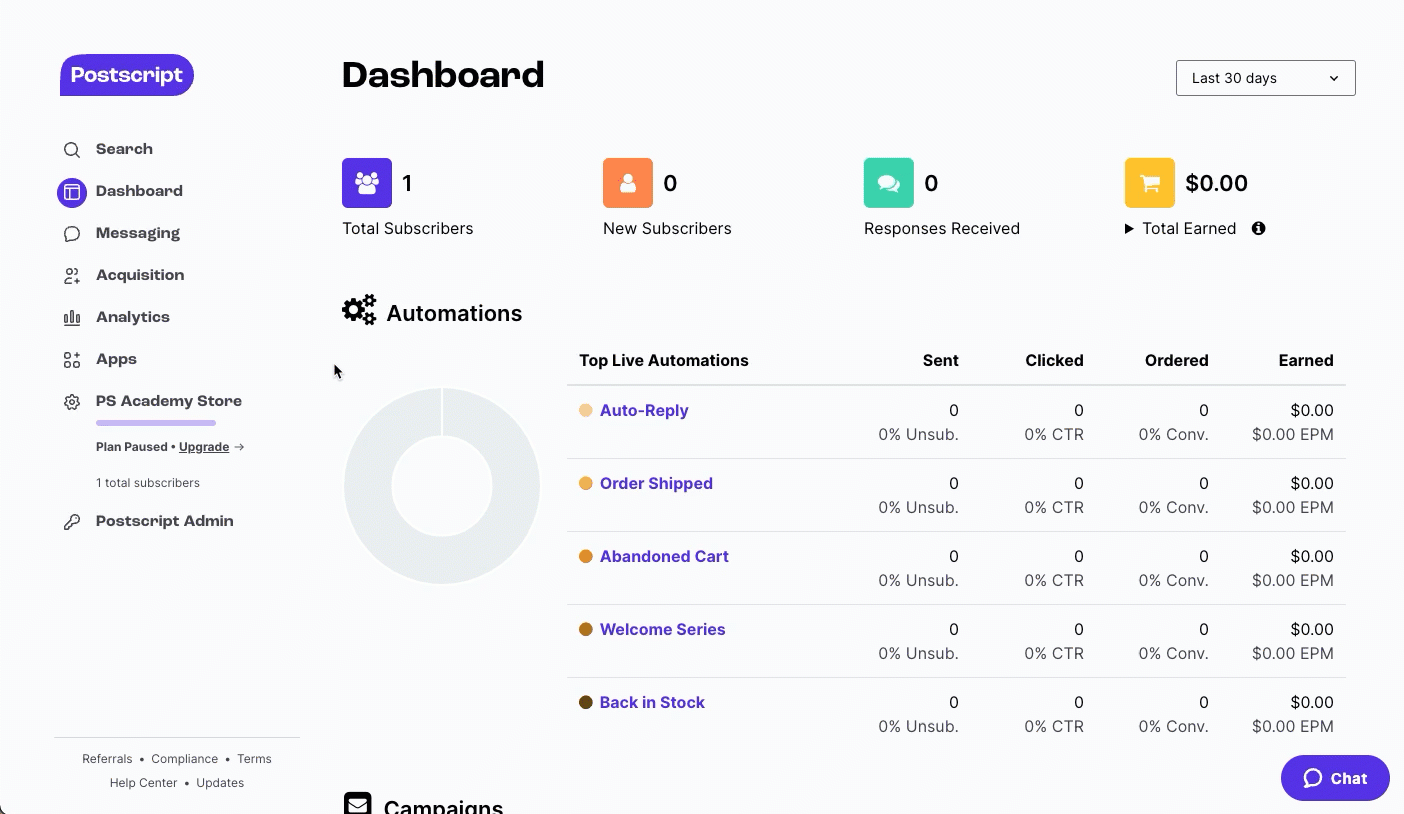 Select Acquisition in the side menu of your Postscript dashboard, then select Keywords.
Select Create Keyword in the top-right corner of the page.
Name your keyword. Aim for something that explains what the keyword is for and any coupon included. For example: 

FLOWER20. A flower store with a 20% off coupon code.

Choose whether to enable Include Coupon in Reply.

We highly recommend you include a coupon with your keyword.
To do so, select Yes from the drop-down and then enter the amount of the discount and whether is a percent or dollar value.

Select Save Keyword.
You can customize your keyword reply and add additional actions via + Add Action if desired.
Collect SMS Subscribers with a Swapt Landing Page
---
1. Create your landing page in Swapt. When creating this page, be sure to add TCPA compliance language.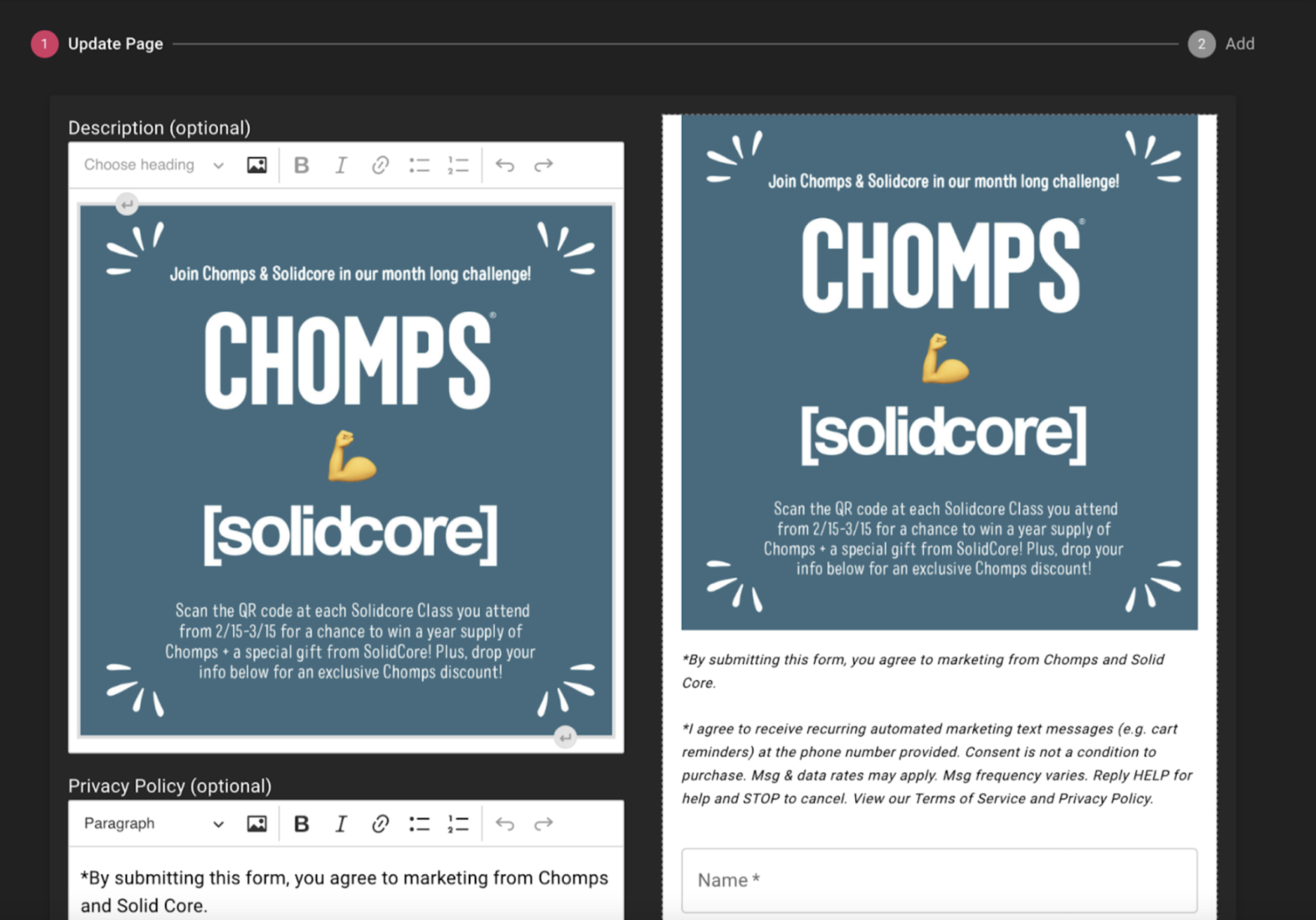 2. Under the Update page, add the Postscript keyword you created from step one of this article.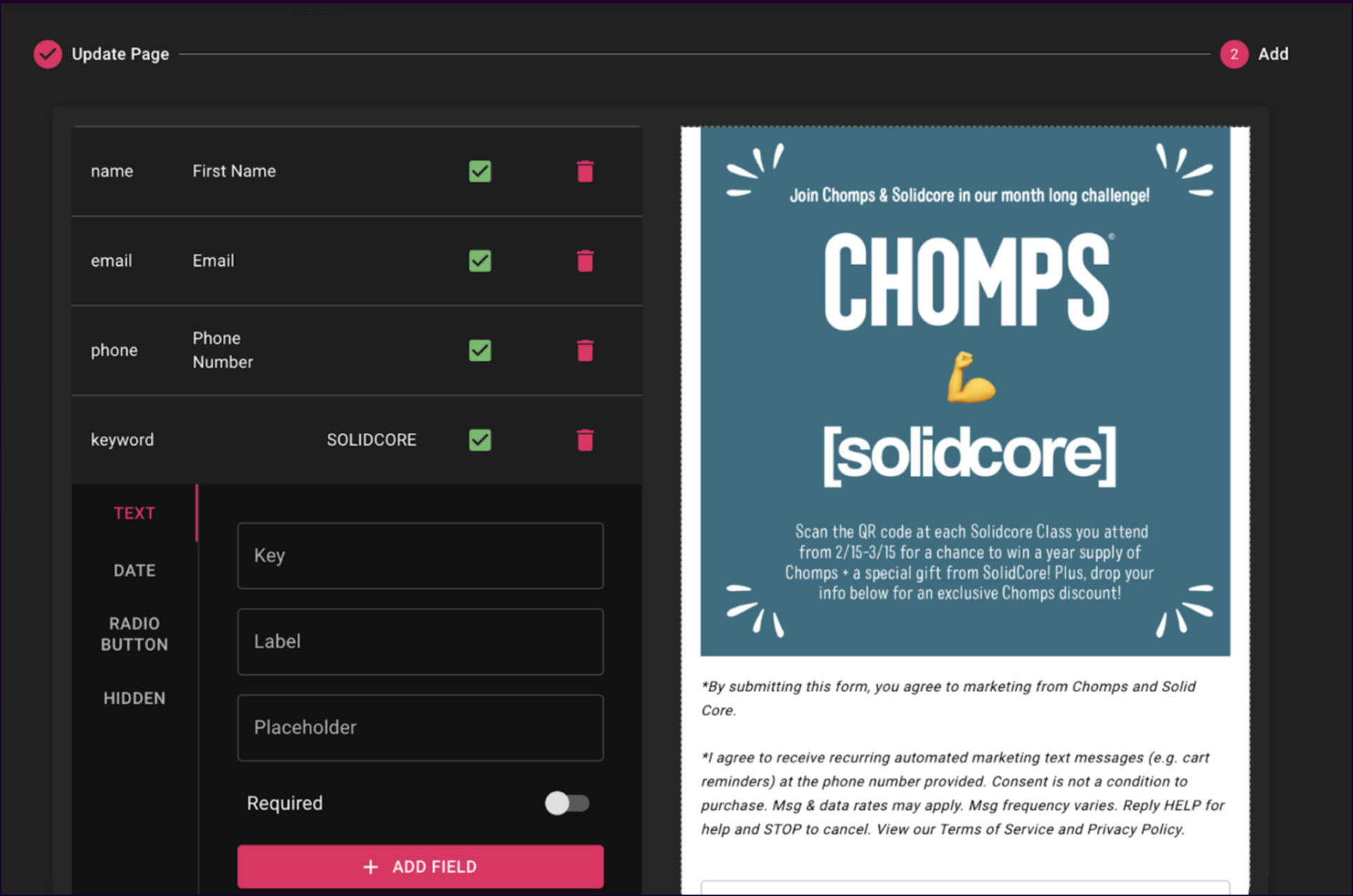 Compliance Language Requirements
---
When collecting subscribers, the TCPA requires you to include necessary compliance language that informs visitors that they are opting into SMS messaging from your store.  Here's the TCPA-approved compliance language:
*By providing your phone number, you agree to receive recurring automated marketing text messages (e.g. cart reminders) from this shop and third parties acting on its behalf. Consent is not a condition to obtain goods or services. Msg & data rates may apply. Msg frequency varies. Reply HELP for help and STOP to cancel. You also agree to the Terms of Service and Privacy Policy.
  Note: In order to collect subscribers compliantly, your shop's Terms of Service and Privacy Policy need to be hyperlinked in the language shown above. If they cannot be hyperlinked, the full URLs of each need to be included so a viewer may search your terms or privacy policy if needed.
For example, "View our Terms of Service (https:/myshop.com/terms-of-service/) and Privacy Policy (https://myshop.com/privacy-policy/)." 
Create a Swapt Automation
---
With a Swapt automation, you can bring subscribers back to your brand experience by displaying a scannable code in retail stores or events. This automation will fire when your Swapt code is scanned by a subscriber.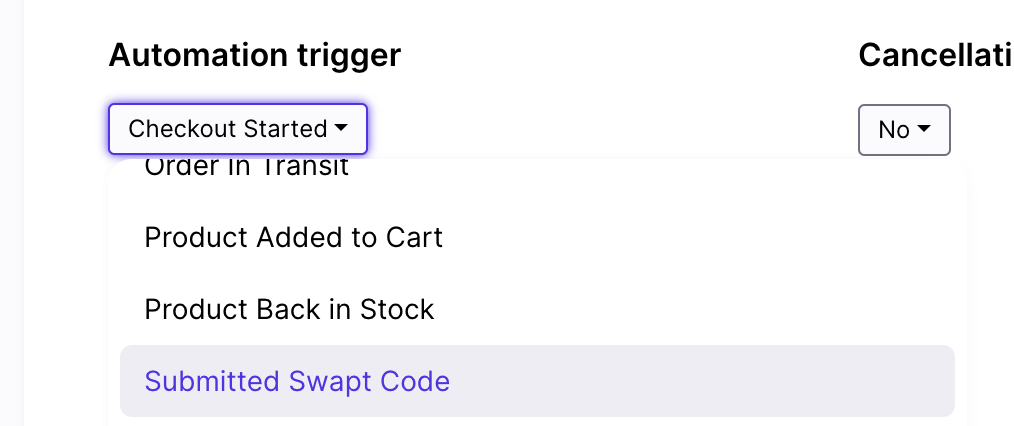 From the Postscript dashboard, select Messaging, then select Automations. 
In the upper-right corner, select the Create Automation button, then choose Create Legacy Automation.
Select the Custom Automation card. Under Automation trigger, select the dropdown and choose the trigger Submitted Swapt Code.
If desired, continue adjusting your automation properties as you see fit then choose the Save & Continue to Messages button to move to the message copy editor.
Craft your message, and once complete, select Save Automation in the bottom-right corner (note: you can learn more about crafting automations here).
To activate the automation, select the Enabled toggle.
Get Support
---
Have questions? Please feel free to reach out to our wonderful Support team at support@postscript.io or via live chat. You can also submit a support request here!
Need ongoing channel strategy guidance? Please fill out this form and we'll connect you to one of our certified partners.