Does this product update apply to your shop? If you connected your Gorgias integration on or before February 16th, 2023, this update is for you and action is required.
Postscript integrates with Gorgias, allowing you to share information between the two solutions. 
About Reauthenticating Your Gorgias Integration
---
Gorgias is deprecating their current authentication method on April 1st, 2023.
This update requires brands that integrated the Gorgias app in their Postscript account on or before February 16th, 2023 to reauthenticate the connection by April 1st, 2023 to ensure there are no disruptions to the integration. 
In this article, we'll walk through how to reauthenticate your Gorgias integration in Postscript.
Reauthenticate Your Gorgias Integration
---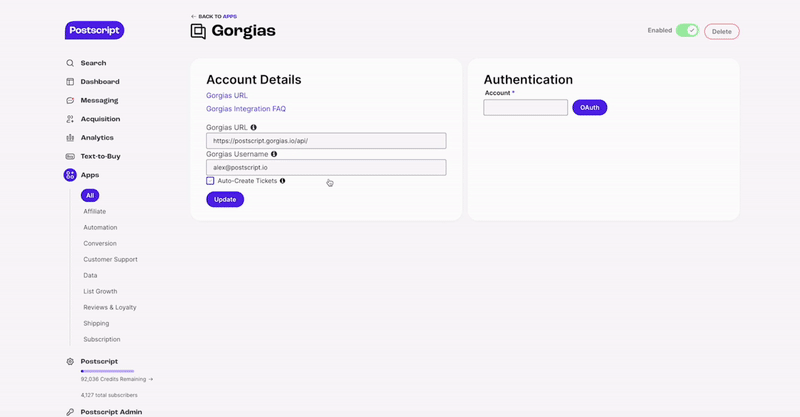 From your Postscript dashboard, select Apps on the left-side navigation panel.
Using the search field at the top of the Apps page, search for Gorgias. There are two Gorgias integration cards - the updated version is labeled "Gorgias" and the deprecated version is labeled "Gorgias (Legacy)". Be sure to select the updated integration card that is labeled "Gorgias".
Enter the requested information—Base API URL (listed as Gorgias URL), Gorgias Username, and Account name (Tip: the account name is the subdomain of your Gorgias URL. For example, looking at the Gorgias URL: postscript.gorgias.io/api - the account name is Postscript).
Optional: Select the Auto-Create Tickets checkbox. This automatically creates tickets in Gorgias for every SMS response you receive from your customers.
Next to the Account field, select the OAuth button to be redirected to the Gorgias authentication page (Tip: If you are not redirected, please ensure you are signed into your Gorgias account).
Select Authorize.
Once the connection is reauthenticated, you will be redirected to your Postscript Apps page. 
Get Support
---
Have questions? Please feel free to reach out to our wonderful Support team at support@postscript.io or via live chat. You can also submit a support request here!
Need ongoing channel strategy guidance? Please fill out this form and we'll connect you to one of our certified partners.