Note: At this time, the Postscript does not support an integration with Zendesk Essential plan.
Postscript integrates with Zendesk, allowing you to share information between the two solutions. With Zendesk, easily manage subscriber replies using Zendesk rather than Postscript's Responses tab.
About Zendesk
---
Zendesk provides a premier customer experience solution that's easy-to-use and scales with your business. With Zendesk, you can meet customer needs, set your team up for success, and keep your business in sync.
Why You Should Set Up Zendesk
---
Meet your customers where they are—in chat, text, or email.
Zendesk's unified workspace makes it easier for your people to track, prioritize, and respond to customers.
Configure Zendesk In Postscript
---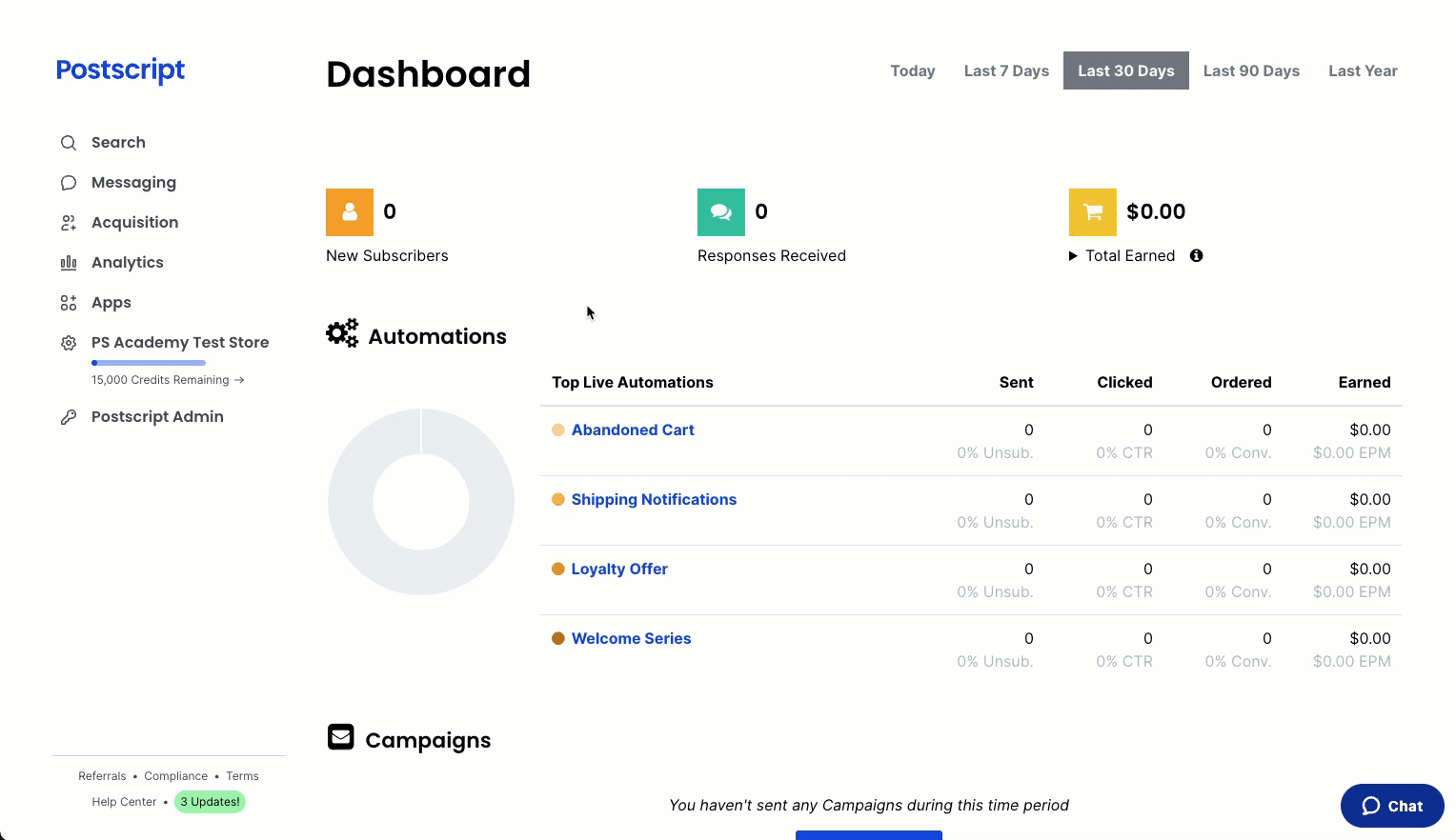 Select Apps in the side menu of your Postscript dashboard, then select Customer Support.
Locate and select Zendesk.
Enter your Zendesk Subdomain in the corresponding field.
Select Save Integration in the top-right corner of the page.
Select Connect to Zendesk and follow the instructions for logging into your Zendesk account.
   Note: When setting up this integration, it is important to select a user with administrator permissions in Zendesk. If that user is removed from your brand's Zendesk account, the authentication will be removed and the integration will need to be reconfigured.
What Comes Next
---
When a subscriber responds to an automation or campaign with a message that falls outside set categories (e.g., opt-out request, keyword, reply to skip, etc.), it will create a ticket in Zendesk.
All tickets created through subscriber responses will say Postscript in the subject line.
Postscript will include the automation or campaign message in the ticket to give your agents better context.
When an agent posts a reply in Zendesk, it'll send to the subscriber as a text message.
As long as the ticket is open, any additional replies from the subscriber will be added to the ticket. Exceptions to this are any messages that fall within set categories (e.g., opt-out request, keyword, reply to skip, etc.)
If an agent marks a ticket as Solved, the subscriber can reopen the ticket with a reply. If an agent marks a ticket as Closed, then subscriber replies will create a new ticket.
If a subscriber opts out while a ticket is open, then Postscript will resolve the ticket.
Additional Functionality
---
The Postscript and Zendesk integration is compatible with Zendesk's Shopify for Support app. This app displays a customer's Shopify order history beside the ticket, but a ticket will not have an order history if the subscriber is without a Shopify customer record (ex: a new customer who hasn't placed an order).
Postscript will attempt to match subscribers with an existing Zendesk user. Otherwise, Postscript will create a new Zendesk user.
If a subscriber is without a Shopify customer record, their name will appear as Postscript Subscriber 123 where the numbers vary. If a subscriber has a Shopify customer record, they will appear as the customer name.
Subscribers will not receive email updates for Zendesk tickets created by Postscript. All communication will occur via SMS.
Subscriber responses remain available in the Responses tab in Postscript. Closed tickets are auto-resolved, while solved tickets remain open for three days. Postscript auto-resolves any subscriber opt-out responses. 
You should now be all set to get started with Zendesk!
Get Support
---
Have questions? Please feel free to reach out to our wonderful Support team at support@postscript.io or via live chat. You can also submit a support request here!
Need ongoing channel strategy guidance? Please fill out this form and we'll connect you to one of our certified partners.