Note Transactional Messaging is currently in beta for Postscript stores on the Professional or Enterprise plans. To enable Transactional Messaging, contact your Customer Success Manager.
As of June 2022, Postscript stores in the transactional messaging beta can send order-related, non-marketing texts through Postscript to a new category of subscriber: a transactional-only subscriber. Learn how to set up transactional messaging here.
Transactional messages for non-marketing subscribers are one of the best ways to give your customers a one-to-one relationship with your brand via SMS. With this feature, you can also get ahead of order-related inquiries using the responses tab and sentiment tags, your shop's help desk, or Slack to respond directly and promptly to transactional-only subscribers.
Comparing Marketing and Transactional Subscribers
---
When transactional subscribers opt-in by placing an order, they agree to receive only order-related, non-marketing text messages from your brand. Because these subscribers do not agree to receive marketing messaging, the content and tone of transactional text messages differ from the marketing messaging your brand might be used to sending.
View the information below to get a better understanding of the differences and similarities between transactional and marketing subscribers and how you can communicate with both types of subscribers.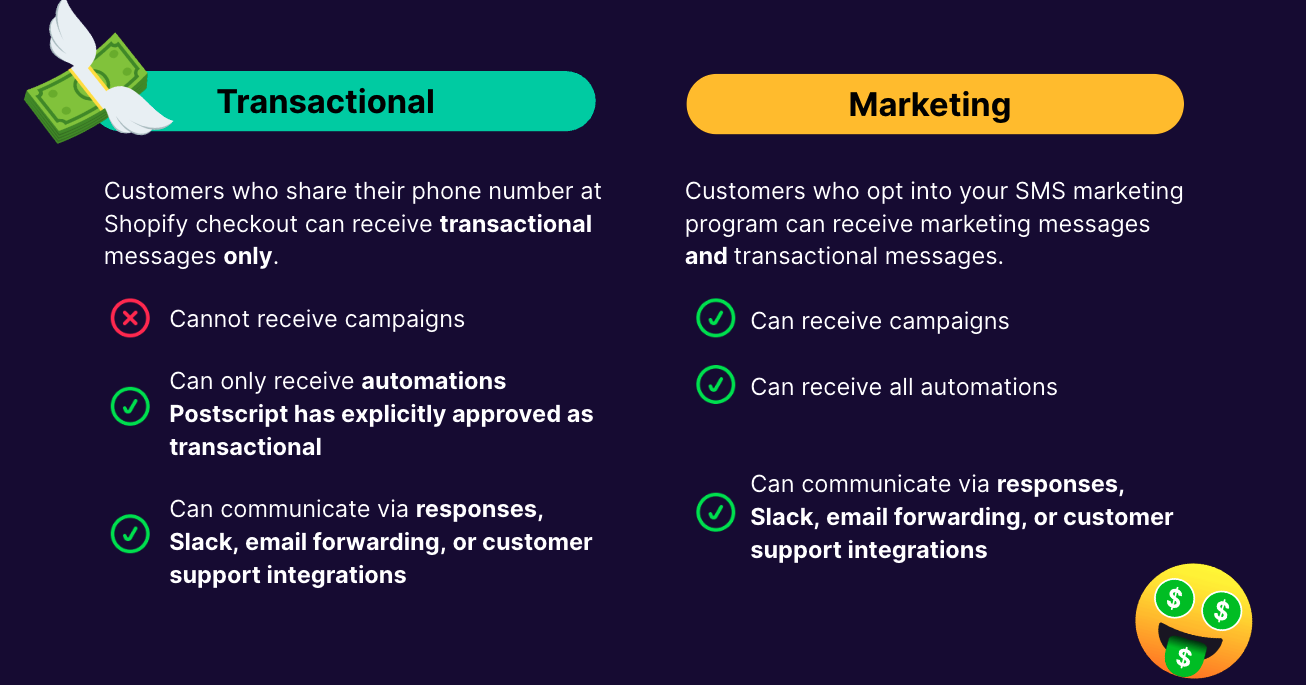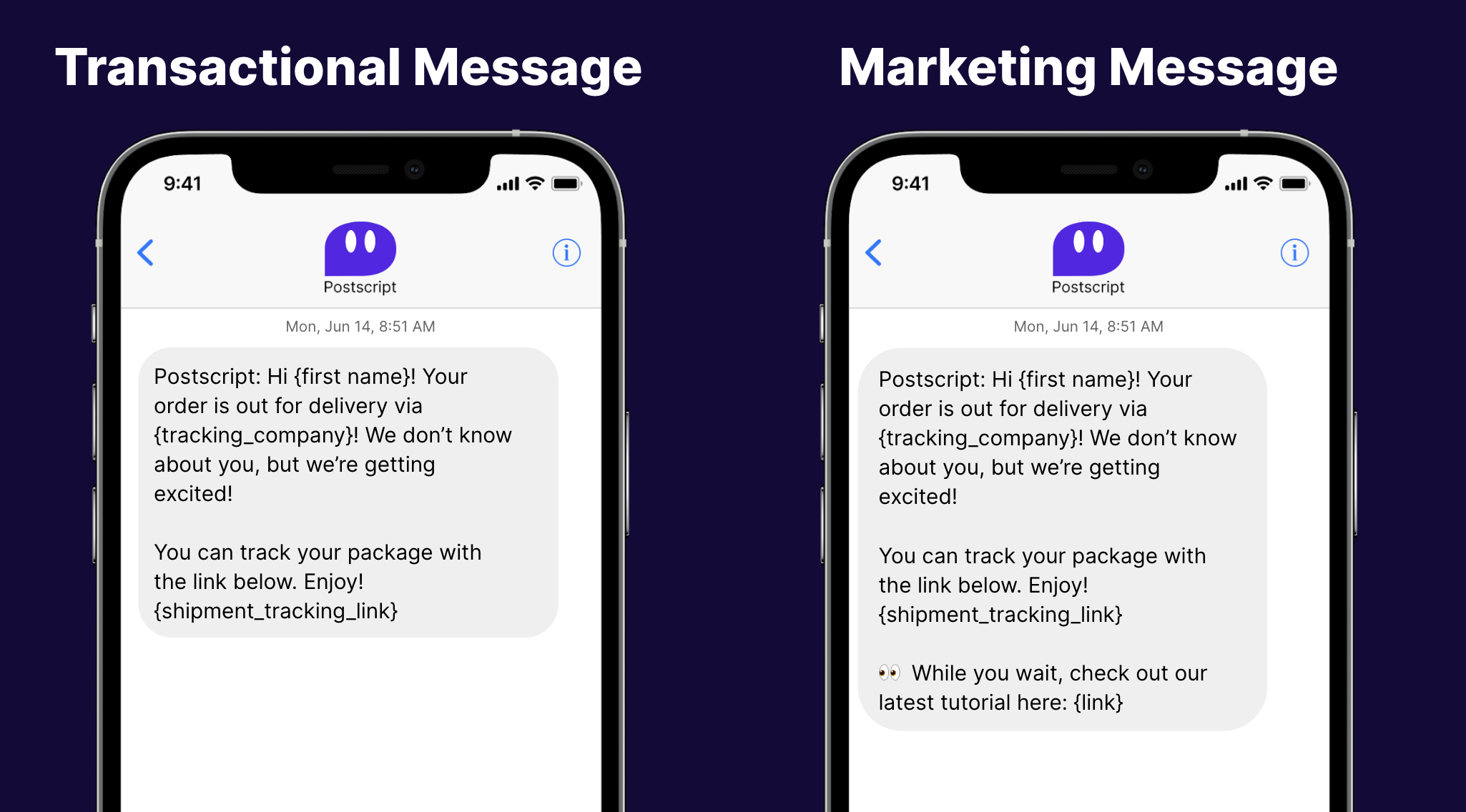 Understanding the Transactional Automation Approval Process
---
The approval process is required each time a transactional automation is created or edited to ensure the automation message meets compliance requirements. We recommend crafting your message in one to two edits to make the approval process more efficient for your brand.
There are three steps to the approval process. Selecting a Transactional Template, Requesting Approval, and Receiving Approval. Learn more about each step using the tabs below.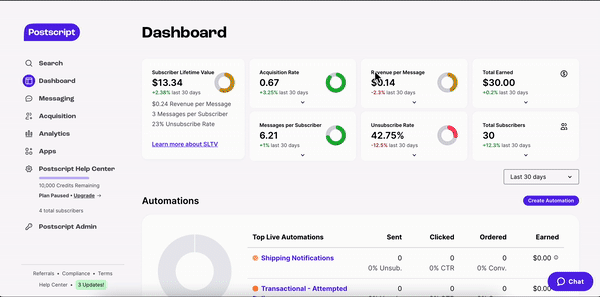 You can choose a Transactional Message template from our Automations Library. Each template includes one of the following triggers: Attempted Delivery, Order Created, Order Delivered, Order in Transit, or Order Out For Delivery.
Once your template is selected from the Automations Library, you will need to submit the automation to our Compliance team for review.
Pre-approved, unmodified templates located within our Automations Library are approved quicker than custom messages or templated messages that have been modified. Any modifications to the templated message can cause delays in the approval process.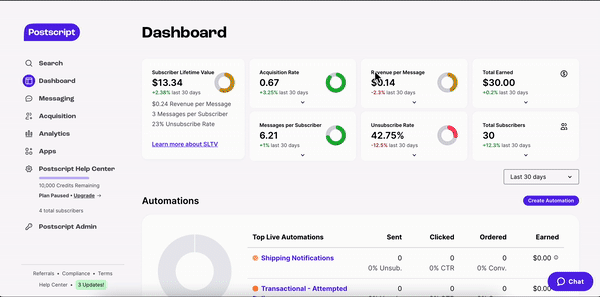 Sending non-compliant messages to transactional-only subscribers can put your SMS program at risk.
Our process has guardrails in place to make sure your brand can utilize transactional messaging to its fullest potential while upholding compliance standards. To do so, we mark each transactional automation as Transactional within Automation Properties, review each transactional automation to ensure there is no marketing language, and then approve the automation once we confirm compliance.
This process ensures that transactional-only subscribers are receiving only order-related, non-marketing messages from your shop. Postscript will only send order-related, non-marketing messages to transactional-only subscribers if the automation has the Transactional - Approved stamp of approval under Automation Properties.
After selecting your transactional template, your shop can submit an automation for review to the Postscript Compliance Team from the Automation Properties page by selecting the dropdown below Transactional and selecting Yes - Requested.
If Postscript has not approved a trigger as transactional, then you will not see the transactional dropdown on the Automation Properties page.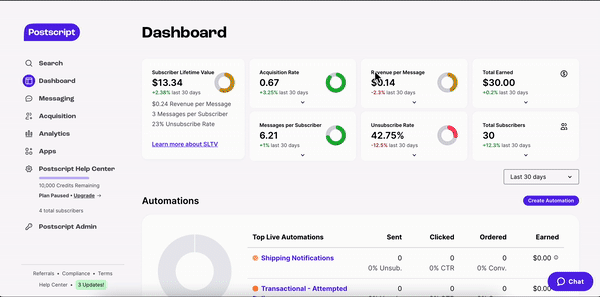 Once our Compliance Team approves the automation, it is marked as Transactional Yes - Approved under Automation Properties. Following the approval, transactional-only and marketing subscribers who trigger the automation will begin receiving the automation.
Pre-approved and unmodified templated messages located within our Automations Library are approved quicker than custom messages or modified templated messages. Any modifications to the templated message can cause delays in the approval process.
If after you select your template, you modify the message and it is denied, your Customer Success Manager will notify you and work with you on crafting a compliant message. The automation's Transactional Message Approval status will remain Requested under Automation Properties.
Transactional settings can be disabled at any time, at which point delivery to transactional-only subscribers will end and delivery to marketing subscribers will continue.
FAQs
---
Can I still send marketing messages using the transactional triggers (e.g. Order in Transit, Attempted Delivery, Order Created, etc.) to my marketing subscribers only? Yes. Because marketing subscribers have consented to receive marketing or promotional messaging from your brand, you can send your marketing subscribers promotional automations using transactional triggers like Order Delivered. You will just need to mark the automation as Transactional - No under Automation Properties.
Will my transactional automation go to both marketing and transactional subscribers once it's approved? Yes. Since marketing subscribers have explicitly opted into your SMS marketing, they can also receive your transactional automations.
Who will receive approved transactional messages? Everyone who enters their phone number at checkout
Can an individual become a marketing subscriber after being a transactional-only subscriber? If a transactional-only subscriber opts in via a regular marketing process (e.g. keyword or checkout), Postscript will upgrade them to a marketing subscriber.
Can an individual become a transactional-only subscriber after opting out as a marketing subscriber? Yes. If a subscriber opts out of your SMS marketing, they can still opt into transactional SMS when they enter their shipping phone number at checkout the next time they place an order. They are able to opt-out of transactional messaging at any time by replying STOP.
Does my subscriber count on the left-side navigation bar reflect both marketing and transactional subscribers? No. At this time, the subscriber count only reflects promotional marketing subscribers.
How can I still send transactional messages if I am not on the professional or enterprise plans? Transactional messaging can be accomplished by Postscript's integration with Aftership. Learn more here.
How can I see if a subscriber is transactional-only?To see if a specific subscriber is transactional, you can check their subscriber profile by entering their phone number using the search icon in the upper left corner of the navigation bar. If someone is a transactional-only subscriber, this will also be denoted on any responses you receive from them within the responses tab.
How can I see how many subscribers are transactional? Navigate to Subscriber Analytics on the left navigation bar (nested under Analytics) within the Postscript app. Transactional Subscribers will show under the opt-in source Checkout.
Get Support
---
Have questions? Please feel free to reach out to our wonderful Support team at support@postscript.io or via live chat. You can also submit a support request here!
Need ongoing channel strategy guidance? Please fill out this form and we'll connect you to one of our certified partners.