Postscript popups are a compliant and powerful way to convert site visitors to SMS subscribers so you can nurture them with a personalized SMS program throughout the customer lifecycle. By employing a Postscript popup, you can:
Increase your Acquisition Rate, which in turn, improves your overall Subscriber Lifetime Value and total value of your SMS program.
Optimize your popup conversions by finding the best combination of popup creatives, timing, images, message copy, and incentives for your brand all through A/B testing.
Power a more personalized SMS experience for all susbcribers by capturing subscriber data in Postscript popups.
In this article, we guide you through how to create a mobile popup, then walk you through how to collect custom properties with Postscript popups.
Create a Mobile Popup
---
To begin crafting your mobile popup, select Acquisition on the left-side navigation panel. Next, select Create in the upper-right corner of the page, then select Mobile from the drop-down options.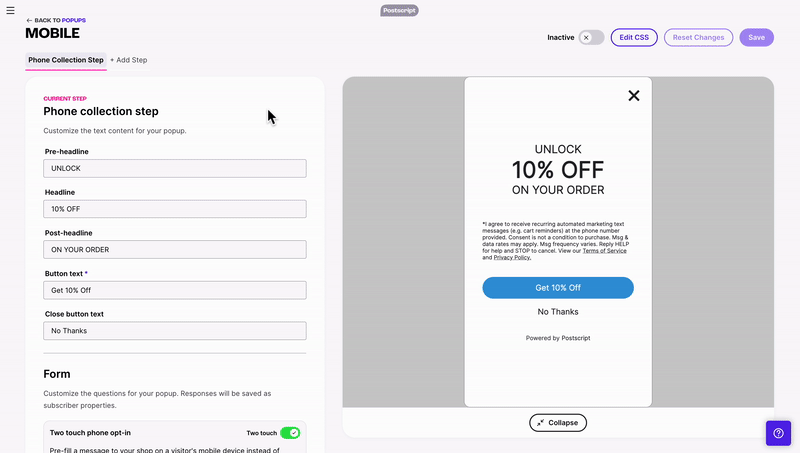 Name. Choose a name that allows you to easily identify this popup from the list of available popups on your main Popups page.
Phone Collection Step. In the phone collection step and the custom step cards, you can adjust the copy for your pre-headline, headline, post-headline, button, and close button.
+ Add Step/Custom Step. When you select + Add Step, you are able to add an additional step for a subscriber to enter their email address. You can also use this second step to collect custom properties.
Form. This section is where you will configure your custom property collection for all steps. We discuss this in more depth below.
Two touch. You can also activate two touch by toggling the bar on the Form card.
Popup settings. In the Popup settings card, you are able to adjust the style and behavior of your popup for all steps. We'll discuss both in the tab system below:
In addition to Style and Behavior, a third tab will appear when you select + Add Step. This third tab, Klaviyo Integration, is where you can choose which Klaviyo lists your Postscript popup-collected emails should be forwarded to. You can also export all email subscribers in this tab by selecting the exported hyperlink.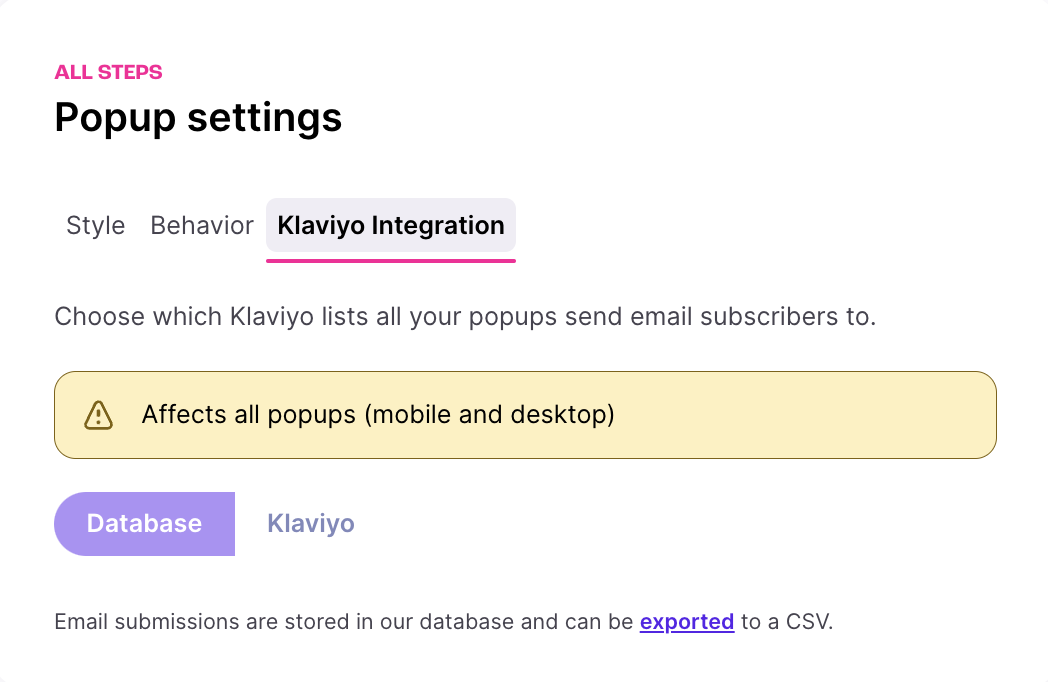 Collect Custom Properties
---
Under the Form card within the popup editor, you can customize the questions for your popup. Subscriber responses will be saved as custom properties within a subscriber profile.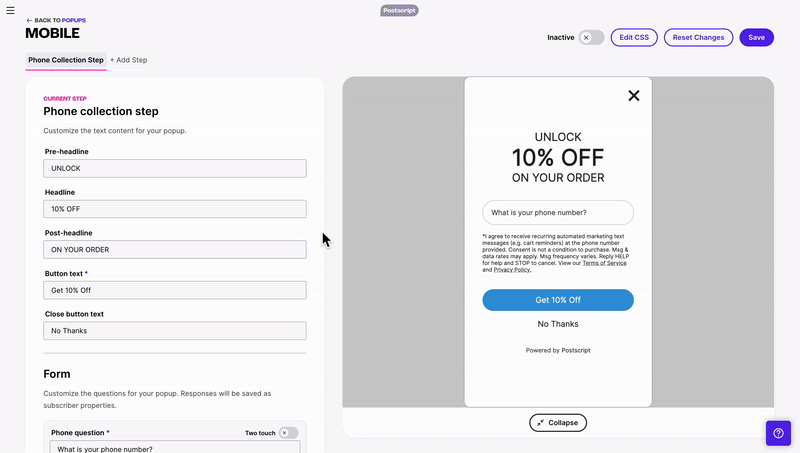 Under Phone question, you can change the placeholder text.
Two touch. Next to Phone question, you can activate Two touch by toggling the bar to the ON position.

Keyword. If you choose to activate two touch, you'll be prompted to select a keyword. The keyword you choose and its corresponding response is the response message subscribers will receive upon opt-in. 
Pre-filled text message. When a subscriber taps the call-to-action button, they'll be rerouted to their native text message app with a pre-filled message prompting them to hit send. This is where you can craft that pre-filled message (for example: Send this text to subscribe to My Shop! (ref: MYSHOP15 ).

If you do not use Two touch, you will see a Welcome message. You can craft the message your subscribers will receive once they opt into your SMS program via mobile popup. You can customize this message with photos, gifs, merge tags, coupons, discount links, product links, or a contact card.
Select Add Question to add a question to your popup. Choose if you'd like subscribers to answer this question via freeform text or multiple choice. Their response will be added to their subscriber profile under Custom Properties.
Within the Text question or Multiple choice question field, craft your question copy (for example: what's your main skin concern?). 

If adding a multiple choice option, be sure to add the options. You can add up to four.

Under Subscriber property, add the property name you are collecting by either creating a new property or selecting an existing property. You can think of the subscriber property as the main subject of the question (for example: if you ask subscribers what their main skin concern is, the subscriber property would be "skin_concern").

Select the Switch Order button to change the order of questions. For compliance reasons, you cannot change the order of your question and phone input field on the Phone collection step. The phone input will always be the second question listed. On the Custom step, you can switch the order of the questions.
Additional Resources
---
Get Support
---
Have questions? Please feel free to reach out to our wonderful Support team at support@postscript.io or via live chat. You can also submit a support request here!
Need ongoing channel strategy guidance? Please fill out this form and we'll connect you to one of our certified partners.