Tip: Select any of the images in this article for a closer look.
It's no secret that the holiday season drives a significant portion of stores' annual revenue. Black Friday and Cyber Monday, in particular, are widely known as two of the most important consumer days of the year.
As you head into the holiday season, it's important to set your brand up for success when it comes and a strong list growth strategy can help. In this article, we'll go over the various list growth methods Postscript offers and how you can weave them into your holiday marketing strategy.
Why You Should Focus on List Growth
---
List growth methods focus on collecting SMS subscribers by engaging your various audiences such as email and social media.
List growth options focus on collecting SMS subscribers by engaging your various audiences.
The more subscribers you have, the more people you can reach with your Black Friday and Cyber Monday campaigns. 
Each subscriber equals a potential customer conversion and sale.
With multiple list growth options available, you can choose the ones that work best for you.
Enable Desktop and Mobile Popups
---
Popups are a popular list-building tool, and one that is crucial to have enabled heading into the holidays. You can customize popups to match your brand and configure settings such as a delay.
Offer a promo code for subscribing. Percentage or dollar amount--it's up to you.
Invite them to join your VIP or "first look" club where they'll be the first to know about new product drops or promotions.
With the holiday season on the horizon, give them the opportunity to join an "early access" group with exclusive looks at what bundles, kits, or products you'll include in your sales.
Learn more about enabling desktop popups here. Or, dig into mobile popups with this article.
Engage Your Social Following
---
If you have a strong social following (or you're working on growing one), you're likely engaging with your followers on a regular basis.
These days, consumers are more likely to check out your social media accounts before heading to your website to shop, and that's easy traffic you could convert into SMS subscribers.
Instagram

If you are Instagram certified and have 10,000+ followers, use an opt-in link in a swipe-up story.
Don't have 10,000 Instagram followers? Invite followers to subscribe by texting a keyword to your shop's phone number.
Regardless of your follower count, engage your audience with quizzes and polls in Instagram stories leading up to your opt-in invitation.
Use a traditional Instagram post and either your keyword and phone number in the graphic (ex: "Text HEYJOY to 12345") or include an opt-in link in the post caption.
Learn more about growing your list with Instagram here.
Facebook

Advertise popular products you expect to sell out of using paid ads. You can invite viewers to text a keyword to stay in the loop.

Use regular Facebook posts to promote a keyword, or include an opt in-link.
Convert Email Subscribers
---
If you've cultivated a healthy mailing list, then consider letting your readers know about your new VIP SMS club or an upcoming sale where they text in for the promo code.
Create a graphic that invites followers to subscribe by texting a keyword to your shop's phone number.
Link readers either in a graphic or by text to your opt-in landing page where they can enter their phone number.
Offer a promo code for subscribing, or simply invite them to join your "early access" club where they get access to upcoming product drops and promotions.
Use a Website Banner to Keep Opt-In Present
---
Website banners are an easy way to stay ever-present to your website visitors. It's a great alternative to popups or a great way to stay available to visitors who exited out of the popup without opting in.
On the fence about banners? Consider this: DRMTLGY keeps an opt-in banner at the top of the website and so far nearly 68,000 people have opted in with the keyword assigned to their opt-in form.
Stay present and accessible to website visitors at all times.
Visitors don't have to worry about missing out on a promo code or special opportunity if it's there at the top of the page.
You don't always need to offer a promotion code. Invite visitors to opt-in via an opt-in landing page and stay in the loop on any upcoming promotions or product drops.
Consider a Giveaway
---
As you close in on the holiday season, you may be looking for one last opportunity to engage potential SMS subscribers. A giveaway is a perfect opportunity.
Giveaways allow you to be creative. You can bundle some of your products or you can collaborate with related brands to create a giveaway experience.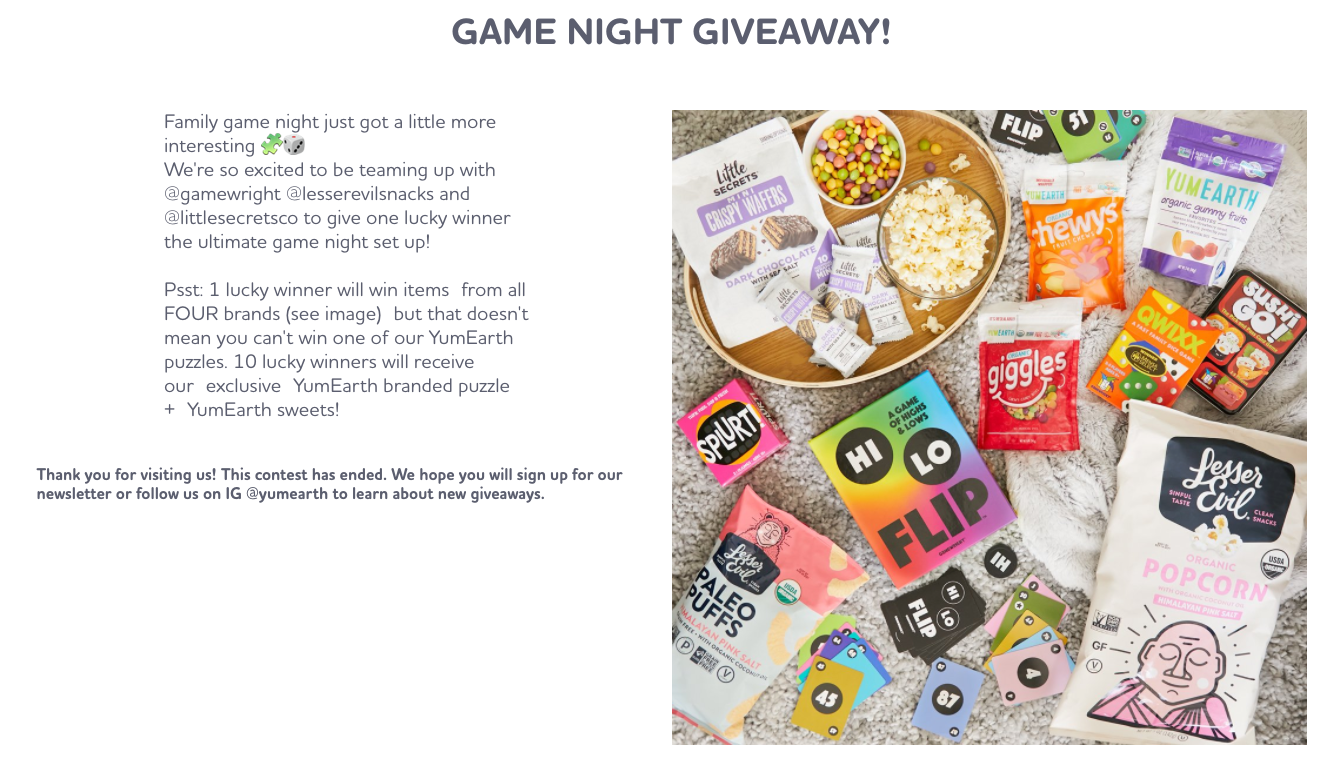 Create an opt-in link you can share in your Instagram stories or other social outlets.
Use a form to collect subscribers.
Build a custom welcome series for subscribers who opt-in. Series might include a thank you message and information about when you'll pick and notify winners.
Compliance Language Requirements
---
When collecting subscribers, the TCPA requires you to include necessary compliance language that informs visitors that they are opting into SMS messaging from your store.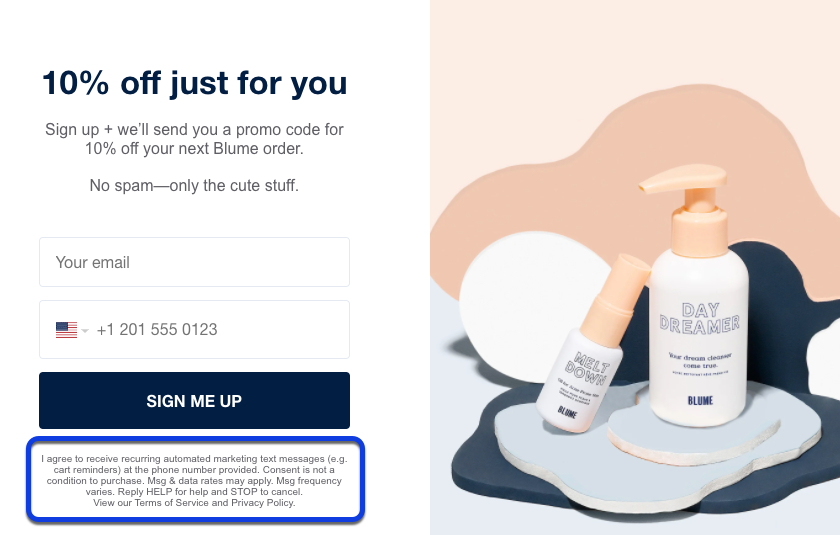 Here's the TCPA-compliant language:
*By providing your phone number, you agree to receive recurring automated marketing text messages (e.g. cart reminders) from this shop and third parties acting on its behalf. Consent is not a condition to obtain goods or services. Msg & data rates may apply. Msg frequency varies. Reply HELP for help and STOP to cancel. You also agree to the Terms of Service and Privacy Policy.
Note: In order to collect subscribers compliantly, your shop's Terms of Service and Privacy Policy need to be hyperlinked in the language shown above. If they cannot be hyperlinked, the full URLs of each need to be included so a viewer may search your terms or privacy policy if needed.
For example, "You also agree to the Terms of Service (https:/myshop.com/terms-of-service/) and Privacy Policy (https://myshop.com/privacy-policy/)."
You should now be all set to grow your list ahead of this holiday season!
Get Support
---
Have questions? Please feel free to reach out to our wonderful Support team at support@postscript.io or via live chat. You can also submit a support request here!
Need ongoing channel strategy guidance? Please fill out this form and we'll connect you to one of our certified partners.