Tip: Select any of the images or GIFs in this article for a closer look.
Postscript integrates with Front, allowing you to share information between the two solutions.
About Front
---
Front is a customer communication hub that helps support teams deliver fast responses and create relationships that last.
Why You Should Set Up Front
---
Automate your workflows for faster and more personalized responses.
Get actionable insights that inform future decision making.
Centralize all customer communications in one place so your support team can more effectively assist customers.
Configure Postscript in Front
---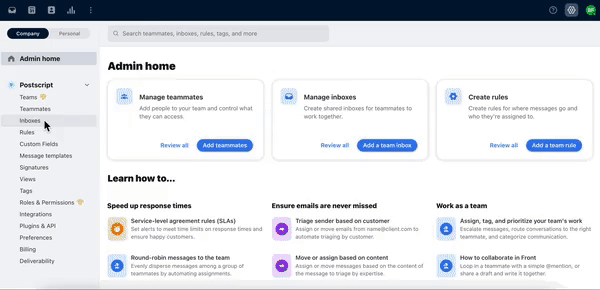 Create a new inbox in your Front account for Postscript subscriber responses to funnel into. For instructions on how to add a team inbox, see here.
From the admin section of your Front account, select Inboxes on the left side navigation bar.
Select the inbox your team will use for managing Postscript responses, then select Channels on the left-side sub-navigation panel.
Under Channels, find your forward email address. Copy this and save it for later - you will need it when configuring Front in Postscript.
Set Up Email Forwarding in Postscript
---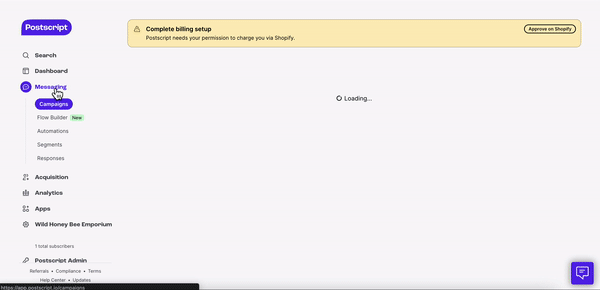 Select Messaging in the side menu of your Postscript dashboard, then select Responses.
Select Forward Responses in the top-right corner of the page.
Enter the email associated with your Front support inbox (aka the one you copied earlier).
Select Start Forwarding.
Responses forwarded to Front appear as sent from Postscript. When your support team responds to the ticket, the response will go straight to the subscriber's text thread. 
You should now be all set to get started with Front!
Get Support
---
Have questions? Please feel free to reach out to our wonderful Support team at support@postscript.io or via live chat. You can also submit a support request here!
Need ongoing channel strategy guidance? Please fill out this form and we'll connect you to one of our certified partners.