When migrating your SMS program to Postscript from SMSBump, your shop can upload a previously collected subscriber list so you can hit the ground running with your Postscript-hosted SMS program. Follow the instructions below to ensure you only upload those who are actively subscribed to your SMS program.
Export your subscriber list from SMSBump
---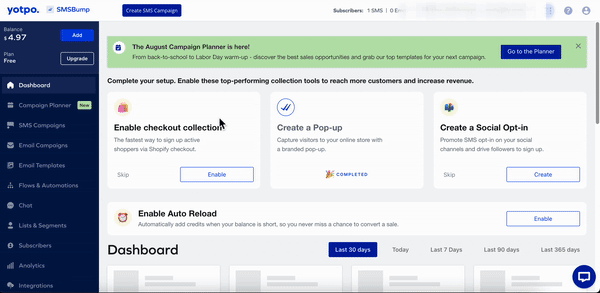 Within your SMSBump account, select Subscribers on the left-hand navigation bar. 
Select the All Subscribers sub-section on the left-hand navigation bar.
Select Request Data in the upper right corner.
Complete the prompts in the modal window then select Send Request.
Import your subscriber list to Postscript
---
Fill out each required field. Attach your CSV from SMSBump at the end of the form.
Postscript's compliance team will review your list and upload it to your account in 1-3 business days. Once uploaded, you will be notified in-app and automatically see your subscribers added to your Postscript account.
Tip:
Be sure to copy over your welcome series, cart recovery, or post-purchase automations prior to disconnecting your previous SMS program. Learn more about setting up Postscript automations
here
. 
Before You Go
---
We highly encourage you take screenshots and/or photos of your opt-in forms with compliance language present so you can continue to keep your subscriber collection records should you need to reference them in the future.
Before exporting your list to upload to Postscript, be sure to deactivate list growth tools (popups, keywords, landing pages, etc.) on SMS Bump so your list exports are comprehensive and as up-to-date as possible ahead of the migration.
Once you're migrated to Postscript, activate Postscript list growth tools (popups, keywords, landing pages, etc.) to begin subscriber acquisition again.
Get support
---
Have questions? Please feel free to reach out to our wonderful Support team at support@postscript.io or via live chat. You can also submit a support request here!
Need ongoing channel strategy guidance? Please fill out this form and we'll connect you to one of our certified partners.