Tip: Select any of the images or GIFs in this article for a closer look.
Is your shop on usage billing? If you downloaded Postscript on or after 3/1/2022, then your shop is on usage billing. This article is for you.
At Postscript, we strive to be as transparent as possible with shops about how our pricing works. After thorough research and conversations with partners and customers, we determined a usage-based plan offers shops the flexibility needed to adapt to their industry throughout the year. With a usage-based approach to pricing, shops only pay for what they use and what they send.
In this article, we discuss usage caps and the role they play in the billing process.
What Are Usage Caps?
---
One approach to usage-based billing is to charge shops for every automation that fires or for every scheduled campaign a shop sends. However, shops find that these many, smaller charges can make a lot of noise in their banking system. In an effort to provide a quality experience for shops and break costs into chunks, we've implemented usage caps.
A usage cap is a set amount of spend that a shop must reach before they will see a usage charge to their payment on file. In other words, shops will send messages and accrue the related message fees, and once those fees reach that usage cap, the shop will be charged.
For example, if a shop has a usage cap of $100, each time their usage activity (i.e. message fees for messages sent) totals $100, their payment on file is charged. Shops can view current progress toward their usage cap on their Billing Overview page.
Want to view a breakdown of your usage cap charges? Select View all product usage beneath your usage activity summary.
How Usage Caps Work
---
With usage caps, Postscript can group usage activity and fees together in a single charge rather than allowing several smaller charges to hit a shop's payment on file.
Since Postscript charges a shop's payment on file each time it reaches its usage cap, shops may see multiple usage cap charges each month. For example, if a shop with a $100 usage cap reaches that cap three times in January, then they will see three separate $100 charges in that month for a total of $300 in usage costs.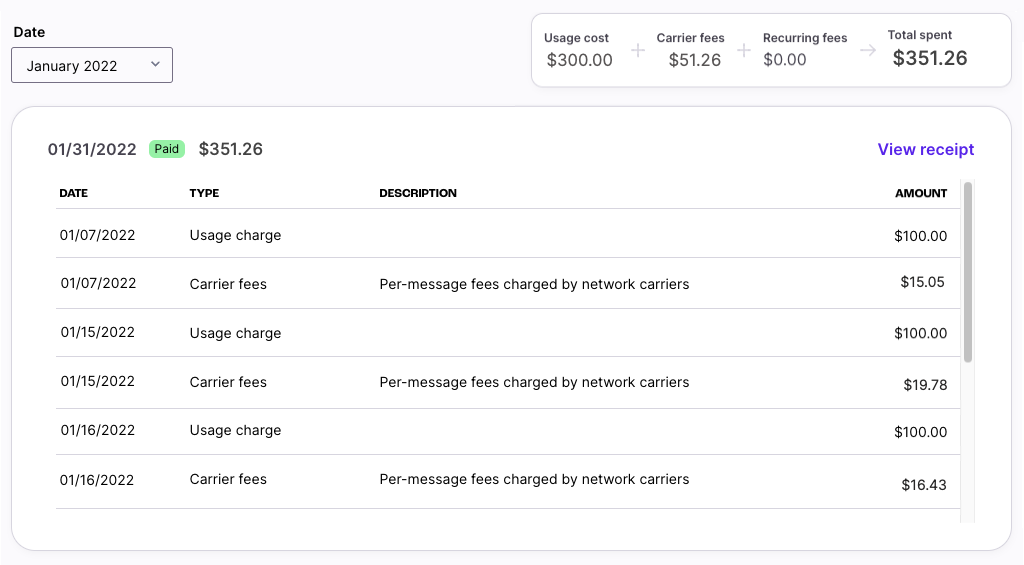 What about carrier fees?
Carrier fees are calculated daily and billed when a usage charge cap is met. Learn more about carrier fees
here
.
On a Professional or Enterprise plan? Usage caps are billed and charged differently on these plans. Reach out to your Customer Success Manager or Postscript Support if you have questions about your usage caps.
Get Support
---
Have questions? Please feel free to reach out to our wonderful Support team at support@postscript.io or via live chat. You can also submit a support request here!
Need ongoing channel strategy guidance? Please fill out this form and we'll connect you to one of our certified partners.