Tip: Select any of the images or GIFs in this article for a closer look.
   Is your shop on legacy billing? If you downloaded Postscript before 3/1/2022, then your shop is on legacy or credit-based billing. This article is for you.
If you wish to pause your Postscript plan for a period of time, you can do so without losing message drafts, customized popups, and other account information.
We walk through how to pause your plan below and provide a checklist of other items to disable so your account isn't actively collecting subscribers or sending messages during your break.
What Happens When You Pause Postscript
---
When a shop pauses their plan, they keep any credits they currently have.
Shops can still send messages if they have credits available. For example, unless disabled, automations (e.g., welcome series, abandoned cart, etc.) will continue to send as triggered until there are no credits available.
Shops can send a campaign if they have the correct number of available credits. Postscript will notify the shop of insufficient credits via a light blue notification at the bottom of the page.
Since shops keep credits on a paused plan, these credits are not refunded.
Pause Postscript
---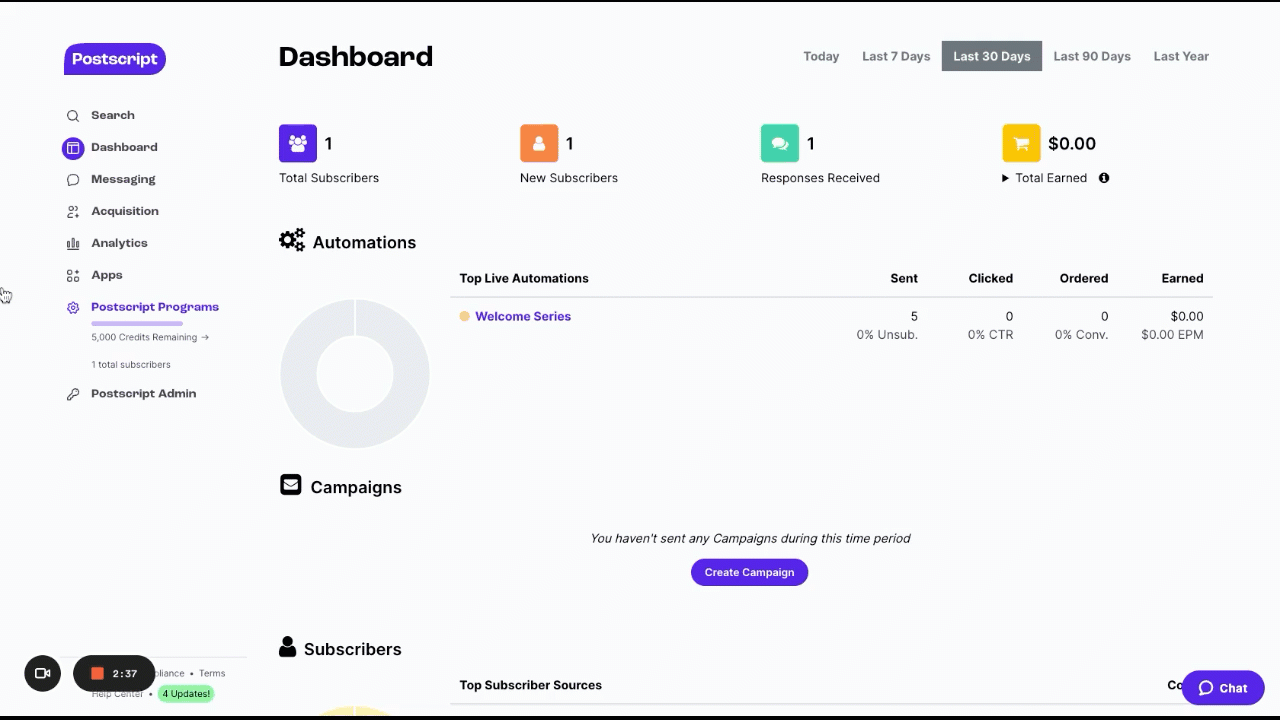 Select your Store Name in the side menu of your Postscript dashboard, then select Plan.
Locate the Paused Store plan option at the top of the plan listing.
Select Cancel Plan on the far-right of the Pause Plan row.
Select a reason for canceling and add comments, if desired.
Select Continue.
'Disable Postscript' Checklist
---
If you would like to pause all messages and list growth activity during your break, then complete the below checklist.
Disable any active automations by deselecting the green Enabled toggle in your shop's automations listing.
Disable any active keywords by deselecting the green Enabled toggle in your shop's keyword listing. 

Note: If you have a landing page connected to a keyword, you must first delete the landing page in Shopify before you can disable the keyword. You'll be able to easily re-create the landing page if you reactivate your Postscript account.

Disable your Postscript desktop and mobile popups by deselecting the green Enabled toggles on your shop's popup page.
   Note: A shop will need to upgrade to a paid plan in order to add more credits. Postscript does not retroactively send out automations that did not send due to insufficient credits.
Get Support
---
Have questions? Please feel free to reach out to our wonderful Support team at support@postscript.io or via live chat. You can also submit a support request here!
Need ongoing channel strategy guidance? Please fill out this form and we'll connect you to one of our certified partners.