Tip: Select any of the images or GIFs in this article for a closer look.
At Postscript, we believe in a product-led approach to compliance. This means that compliance will be built into every part of Postscript so you don't have to think about all of the different requirements. 
While TCPA does not require confirmed opt-in, Postscript offers brands the ability to enable a confirmed opt-in experience for their subscribers.
In this article, we'll talk about how confirmed opt-in works, the benefits of enabling it for your shop, and how to do so.
What is Confirmed Opt-In?
---
Confirmed opt-in (also known as double opt-in) allows brands to require that subscribers confirm their desire to opt into recurring SMS marketing messages by replying "Y" to an initial text message.
Brands can also validate phone numbers entered at checkout, in popups, or via forms. This prevents someone from falsely opting in another phone number or entering a number that can't receive SMS messages (i.e., a landline). If Postscript does not receive a confirmed opt-in, then the number is not added as a subscriber.
While all brands can benefit from enabling confirmed opt-in, it is recommended for brands that:
Have a large customer base
Are considered high-profile in their industry
Are concerned with compliance risk
Why You Should Enable Confirmed Opt-In
---
Allows you to build a subscriber list that is verified and engaged, increasing potential ROI while decreasing sending spend.
Confirmed opt-in creates a record of a subscriber's consent to receive your shop's recurring text messages, allowing you to prove the subscriber knowingly opted-in if you ever need to.
How Confirmed Opt-In Works
---
With confirmed opt-in enabled, a subscriber will be directed to confirm their wish to opt-in once they've entered their phone number in a popup, form, or checkout page. Here's an example: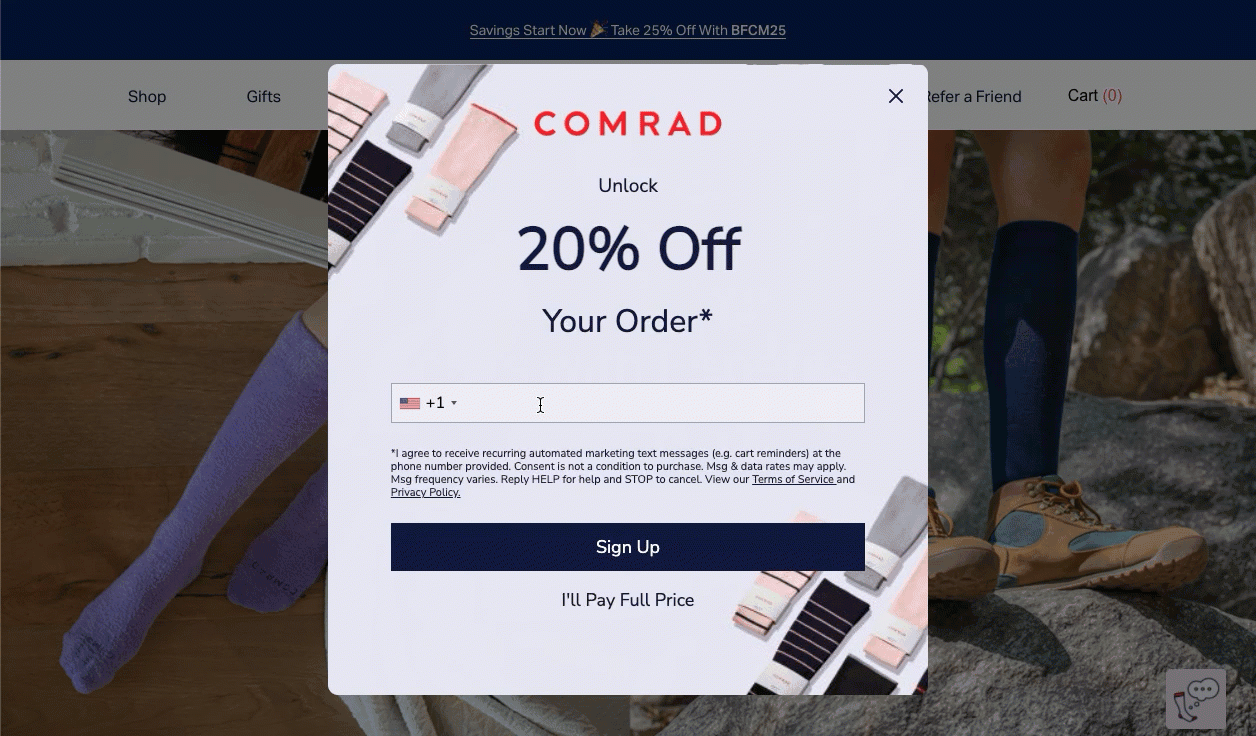 The subscriber will receive the following message on the mobile device that belongs to the phone number they entered:
Shop Name: Reply Y to subscribe to recurring automated promotional msgs (e.g. cart reminders). Msg & data rates may apply.
Once the subscriber replies Y, they'll receive the below confirmation message:
Shop Name: You're subscribed! Reply STOP to unsubscribe, HELP for help. Msgs powered by Postscript.
From there, subscribers will be ushered into any welcome series you have set up for subscribers who opt-in via popups, forms, or checkout.
Enable Confirmed Opt-In
---
Select your Shop Name in the side menu of your Postscript dashboard, then select Settings.
Locate Require Confirmed Opt-ins, sometimes called Double Opt-ins, on Checkout and Integration subscribers option toward the top of the page.
Select Edit to the right of this option. This makes the checkbox selectable.
Select the checkbox, then select Save.
Get Support
---
Have questions? Please feel free to reach out to our wonderful Support team at support@postscript.io or via live chat. You can also submit a support request here!
Need ongoing channel strategy guidance? Please fill out this form and we'll connect you to one of our certified partners.