Tip: Select any of the images or GIFs in this article for a closer look.
Postscript integrates with Malomo, allowing you to share information between the two solutions. You will need to have both apps installed in your Shopify store to pass order information from Malomo to Postscript.
About Malomo
---
Malomo is a shipment tracking solution that helps brands transform shipping notifications and emails into branded experiences. With Malomo, brands can continue to nurture and grow customer relations even after an order is created.
Why You Should Set Up Malomo
---
Proactively notify your customers via Postscript when items ship or shipping delays occur.
Create branded tracking pages that can help drive sales, product education, and improve the customer experience.
Gain insight into customer engagement and carrier performance with analytics.
Create a Postscript API Key
---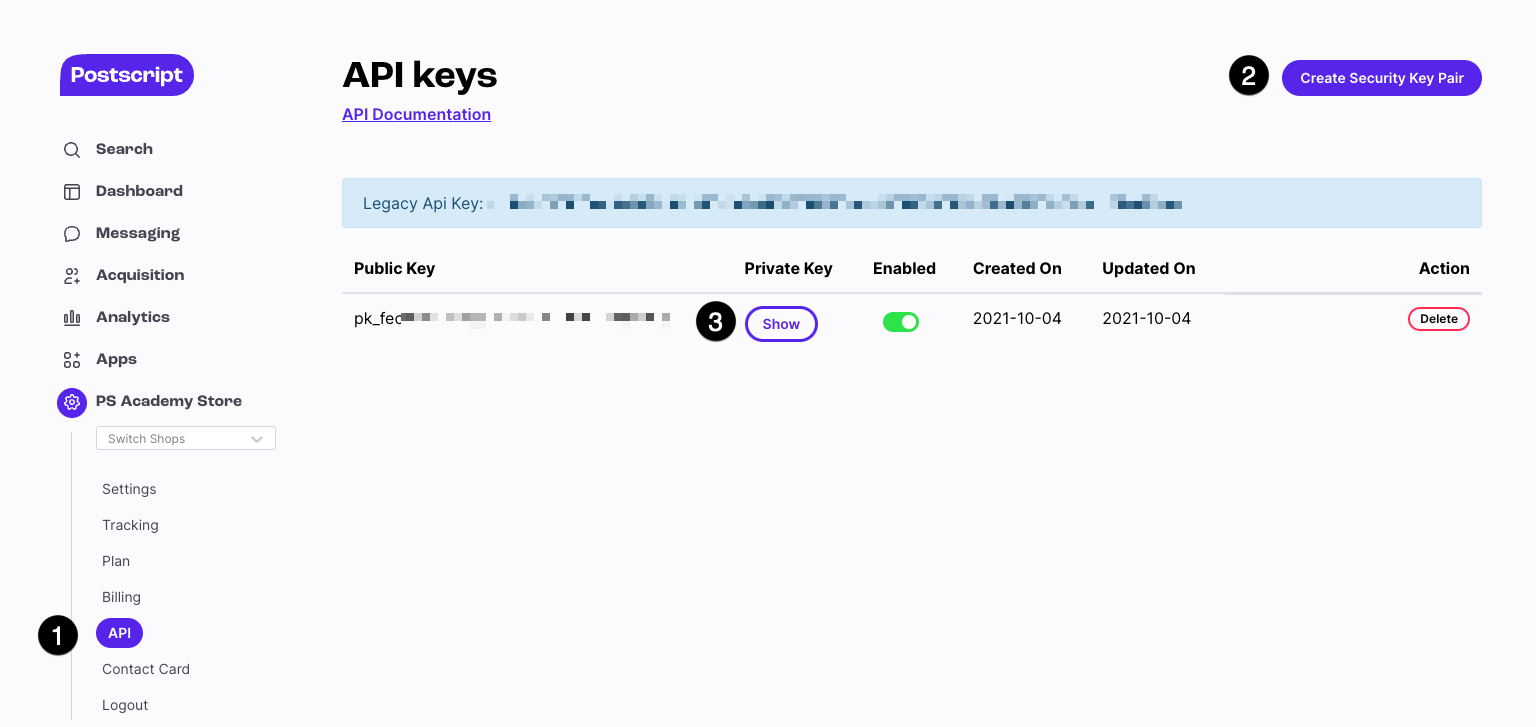 Select your Shop Name in the side menu of your Postscript dashboard, then select API.
Select Create Security Key Pair on the right side of the page, then confirm your action by selecting Yes.
Select Show in the Private Key column to reveal your API key. Copy this key or write it down—you'll need to enter it in Malomo later.
Connect Malomo and Postscript
---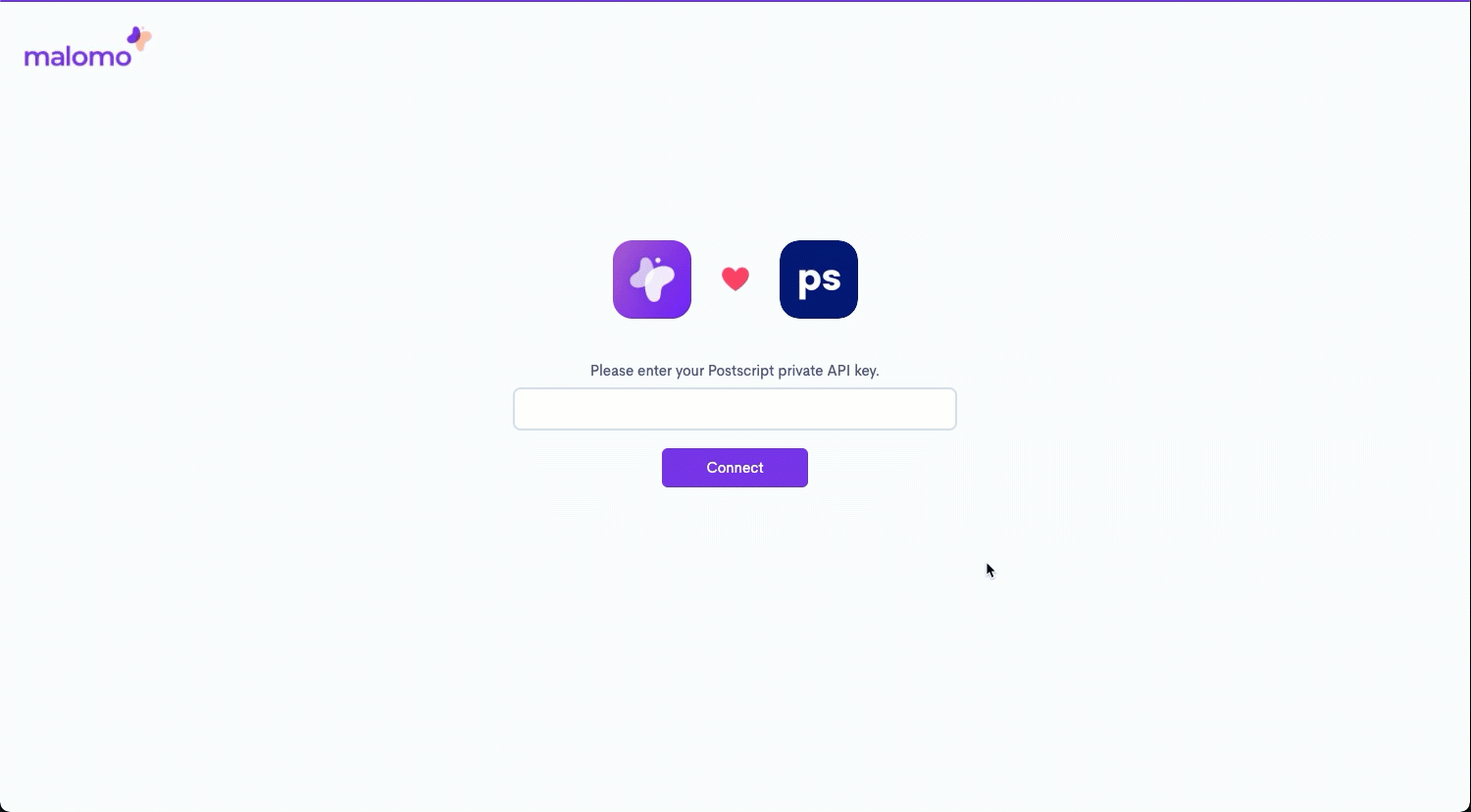 Head to https://postscript.gomalomo.app/ to get started with the setup process.
Enter or paste your Postscript Private API Key in the space provided, then select Connect.
Enter your Malomo login credentials in the corresponding fields, then select Confirm.
Select the account you wish to connect by selecting Connect to the right of the account. 
Finally, select Allow to allow Postscript access to your Malomo account.
Create a Malomo Automation
---
As orders move through the shipping process, you will see the various Malomo shipping triggers appear (e.g, Malomo: Order Created, Malomo: Out for Delivery, etc.).
   Note: We recommend you create a test order and move it through the shipping process to generate these shipping triggers.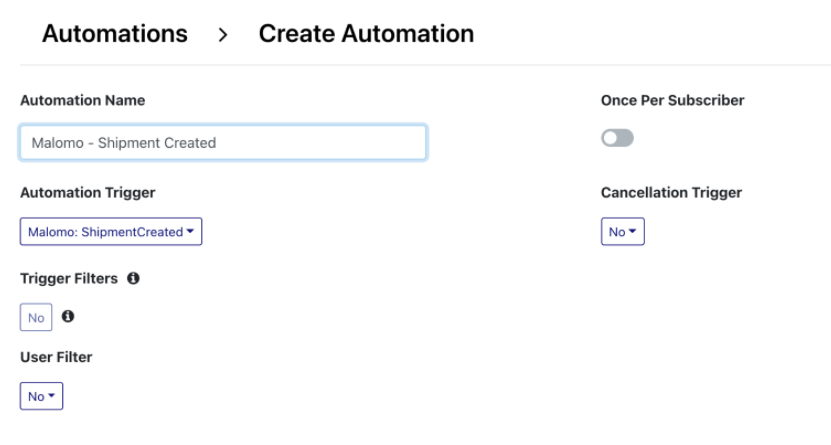 Select Messaging in the side menu of your Postscript dashboard, then select Automations.
Select Create Automations in the top-right corner of the page.
Choose Custom Automation.
Give your automation a name. We recommend you give it a name that indicates its purpose (i.e. Malomo - Shipment Created, Maolomo - Order Shipped, etc.)
Select your Malomo related trigger from the Automation Trigger drop-down.
Select Save & Continue to Messages in the bottom-right corner of the page.
On the message detail page, you can add shipping-related tags to your message such as the order number, tracking ID, and tracking link.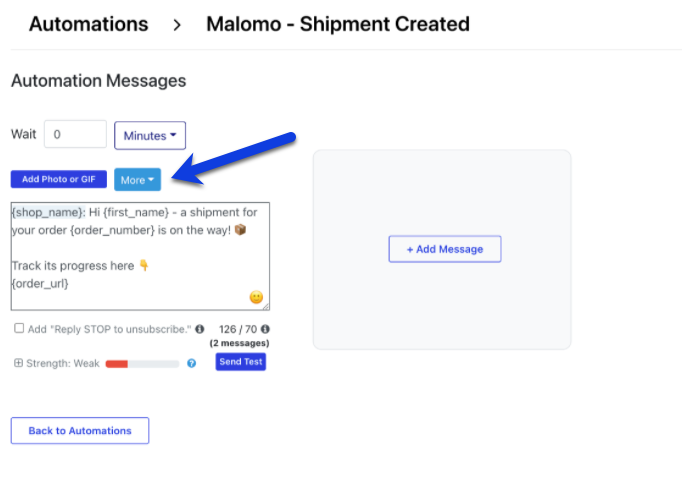 Select the blue More button above the message field.
Select Add Tag.
Choose your desired tag from the Tag drop-down, then select Insert Tag. You can add multiple tags if desired.
Customize your message, if desired.
Select Save in the bottom-right corner of the page.
Last, make sure to toggle the Enabled button on the automation details page so it appears blue.
You should now be all set to get started with Malomo!
Get Support
---
Have questions? Please feel free to reach out to our wonderful Support team at support@postscript.io or via live chat. You can also submit a support request here!
Need ongoing channel strategy guidance? Please fill out this form and we'll connect you to one of our certified partners.