Tip: Select any of the images or GIFs in this article for a closer look.
Labor Day marks the last long weekend of summer, a time when your customers want to get out with friends and family and likely won't be checking their email. That's why SMS is perfect for Labor Day marketing strategies.
Why You Should Consider a Labor Day Campaign
---
Labor Day is the last major holiday before Black Friday/Cyber Monday (BFCM)--

and it's estimated that roughly 34% of buyers will make their holiday gift purchase before Thanksgiving

.

SMS gets straight to a customer's mobile inbox with an open rate that is as high as 98%. Making it a perfect opportunity to personalize a message or offer specific product recommendations.

Since Labor Day marks the end of summer, it's a great opportunity for end-of-summer and similar campaigns.
Create a Labor Day Campaign
---
Here at Postscript, we want to help you take advantage of Labor Day so we've created three example campaigns you can recreate on your own. Learn how to create a general campaign here, and watch the video below to learn about creating a Labor Day campaign.
If you work with a Postscript CSM, you can let them know you want these campaigns enabled in your store(s) and they'll take care of it for you.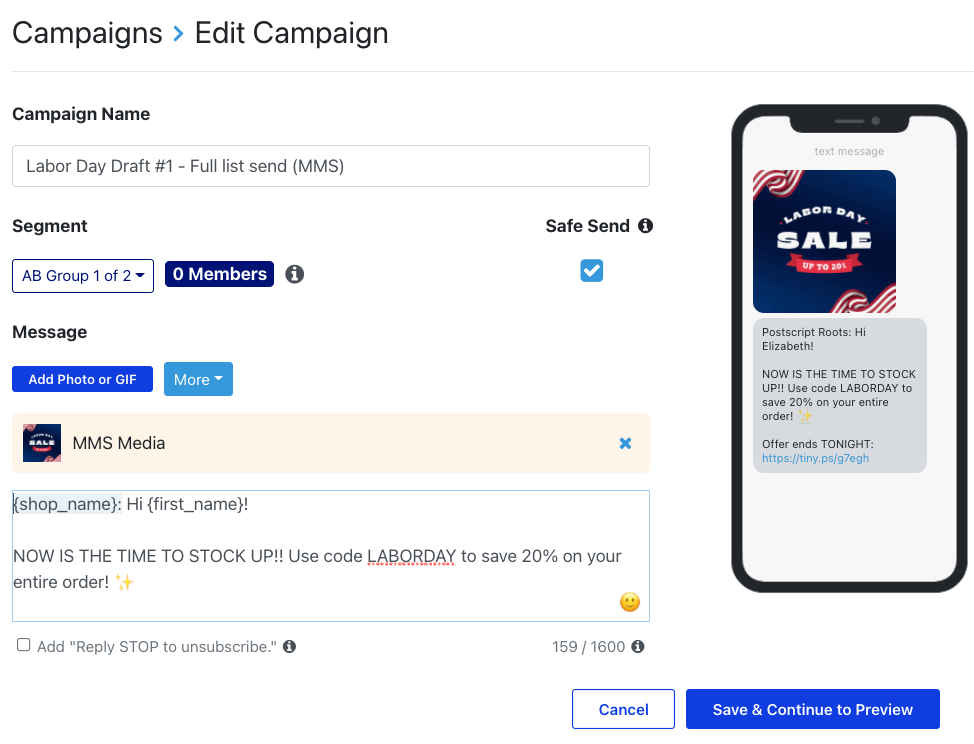 Here are some recommended considerations for your Labor Day campaigns:
Use these campaigns to test ahead of BFCM. Try out different approaches, like an MMS vs SMS campaign, and send each campaign to a different A/B testing group.
Get specific with segments and products. Play up personalizations either with a specific customer segment (i.e., new vs. returning customers) or with products.
Try out different calls to action (CTAs). Offer limited-time offers or deadlines on a promotion code (i.e., Offer ends tonight) and see which has a better engagement rate.
Get Support
---
Have questions? Please feel free to reach out to our wonderful Support team at support@postscript.io or via live chat. You can also submit a support request here!
Need ongoing channel strategy guidance? Please fill out this form and we'll connect you to one of our certified partners.