Postscript is deeply integrated with Klaviyo allowing you to share information between the two solutions. Postscript sends Klaviyo click, open, and coupon data so you can orchestrate a targeted email strategy according to that SMS data.
Using Klaviyo's show/hide blocks, you can send an email with a dynamic block that will show differently to email subscribers who are already opted into SMS versus subscribers who are not already opted into SMS according to if the subscriber has received a coupon.
In this article, we'll guide you through how to create a show/hide block in Klaviyo so you can convert email subscribers into SMS subscribers while keeping the content in your email relevant to subscriber opt in status.
Key Information
---
Show/hide blocks use custom properties or events to determine when to show the information to subscribers. Postscript sends coupon data to Klaviyo as a custom property (namely, Latest Postscript Coupon), allowing you to use this as the conditional property that determines when to show the dynamic block in the email.
It's important to note that using SMS Consent will not work with show/hide blocks as they are not listed in Klaviyo as a custom property, but rather as a Klaviyo profile property. Because of this, using Latest Postscript Coupon as the custom property will inform the correct conditions for the show/hide block.
The accuracy of this function is contingent on if the SMS subscriber has received a coupon since being subscribed to your SMS program.
Adding Show/Hide Blocks in Klaviyo
---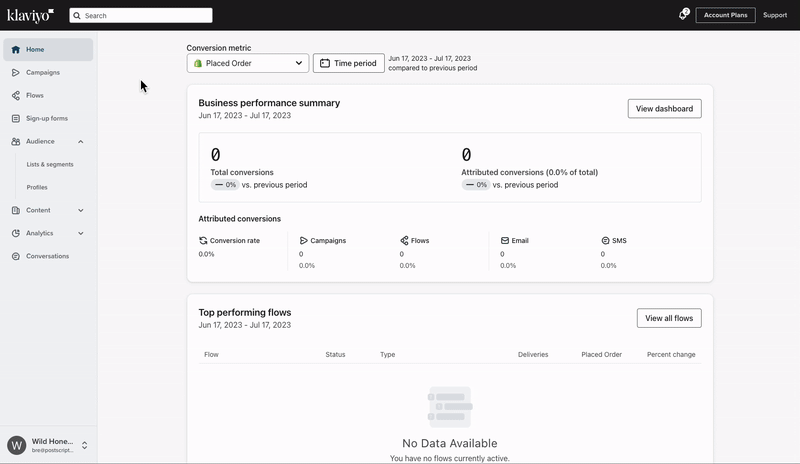 From your Klaviyo dashboard, select Campaigns.
Select an existing email campaign or create a new email campaign by selecting the Create campaign button in the upper-right corner.
Create or select your content block that prompts viewers to sign up for SMS (if you haven't already created one, here's how you can generate an SMS opt in-link and landing page). Be sure to include TCPA compliant language in this block.
Select the Display options tab in the section editor panel on the left-hand side.
Under Show/Hide logic, select Create Logic.
Using the following logic, Klaviyo will show the block if there is any value in the Latest Postscript Coupon custom property field:

person|lookup:'Latest Postscript Coupon' == any
Before You Go
---
When collecting subscribers using a list growth integration, subscribers will be prompted with a "Reply Y to Subscribe" text to confirm their opt-in. This allows your shop to confirm they are a valid, consenting subscriber. This Reply Y interaction is automatic and cannot be disabled.
When collecting subscribers, the TCPA requires you to include necessary compliance language that informs visitors that they are opting into SMS messaging from your store. Here's the TCPA-compliant language:

*I agree to receive recurring automated marketing text messages (e.g. cart reminders) at the phone number provided. Consent is not a condition to purchase. Msg & data rates may apply. Msg frequency varies. Reply HELP for help and STOP to cancel. View our Terms of Service and Privacy Policy.

We encourage our shops to add Postscript's Dynamic Messages Terms of Service and Messaging Privacy Policy hyperlinks in order to remain compliant.
Get Support
---
Have questions? Please feel free to reach out to our wonderful Support team at support@postscript.io or via live chat. You can also submit a support request here!
Need ongoing channel strategy guidance? Please fill out this form and we'll connect you to one of our certified partners.