Who gets this?
Brands on Shopify Plus
that have upgraded to checkout extensibility
can add Postscript's extension to their checkout. If your shop is not on Shopify Plus, see
this article
for how to enable SMS collection at checkout.
Previously, Shopify Plus brands used checkout.liquid theme files to customize their checkout pages and collect SMS subscribers. On February 13, 2023, Shopify announced that checkout.liquid theme files will be deprecated in 2024 and Shopify Plus brands will need to switch to checkout extensibility.
Checkout extensibility allows brands to streamline the customization of their checkout page by dragging and dropping app extensions into defined points of the checkout process.
To continue providing our merchants with a best-in-class experience, we built a Shopify checkout extension for SMS collection. With Postscript's checkout extension, you can:
Confidently ensure compliant SMS opt-ins for all subscribers. Postscript's checkout extension populates TCPA language at checkout that meets the latest compliance standards.
Provide a more personalized checkout experience by notifying subscribers if they're already subscribed to your SMS program.
Boost your acquisition rate by collecting SMS opt-ins even during Shop Pay express checkout.
This article walks through how to add and customize Postscript's checkout extension and provides insight into the subscriber experience when they sign up for SMS via the checkout extension.
Add the Postscript Extension to Checkout
---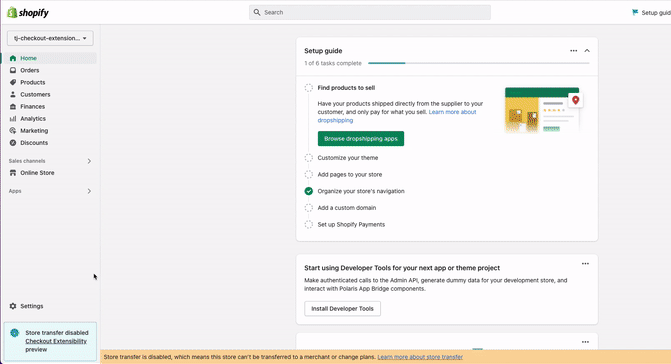 From your Shopify Admin dashboard, select Settings in the bottom-left corner.
Select Checkout and accounts on the left-hand side of the Settings menu.
Under Customize your checkout, select the Go to Checkout Editor button.
From the checkout editor page, select the + Add app in the bottom-left corner.
Under Apps available for this page, select SMS Opt-In at Checkout Postscript SMS Marketing.
By default, the Postscript SMS collection extension will populate on the right side of the Information Page.
To move the extension to a different place on the Information Page, select the Postscript icon and drag and drop it to any point of the checkout process within the left-side panel.
To move the extension to a different page, select the Information Page drop-down menu in the top center of the page.
Choose the page you'd like to include the extension on, then select the + Add app button in the lower-left corner of the editor to re-populate Postscript. Move the SMS opt-in to any point of the selected page by dragging and dropping the Postscript icon within the left-side panel.


To collect opt-ins with Shop Pay, click on the Postscript icon on the left panel, then select the Include app in express checkouts checkbox in the upper-right corner of the editor under App behavior.
Once you've completed designing your checkout, select the Save button in the upper-right corner of the editor.
Don't see the "Go to the checkout editor" button? Reach out to your Shopify Merchant Success Manager (MSM) and request they make it available in your store.
Customize Your SMS Collection Tagline
---
Below the headline Text offers within the SMS collection module, Postscript defaults the collection tagline to "Get the latest discounts and offers sent directly to your phone ✨". In this section, we'll walk you through how to customize this text according to your own brand voice and tone.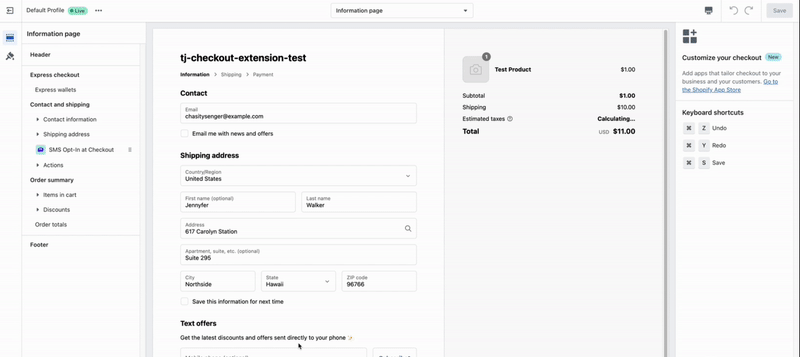 On the left-side panel, select SMS Opt-in at Checkout. A setting panel will populate on the right-side of the checkout editor.
Under Custom Tagline, enter the desired text for your SMS collection at checkout.
Select Save in the upper-right corner to save any changes.
Understanding the Opt-In Experience
---
Once you've updated your Shopify checkout with the Postscript extension, you can test your checkout process in the preview. If you enter your number for the first time, you'll experience a green notification shown below: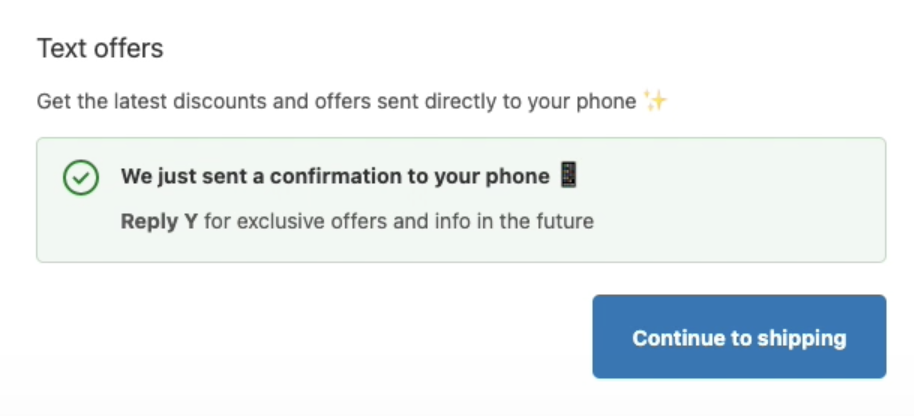 If you're an existing subscriber you will experience a notification that you're already subscribed and to keep an eye out for exclusive offers and info in the future as shown below: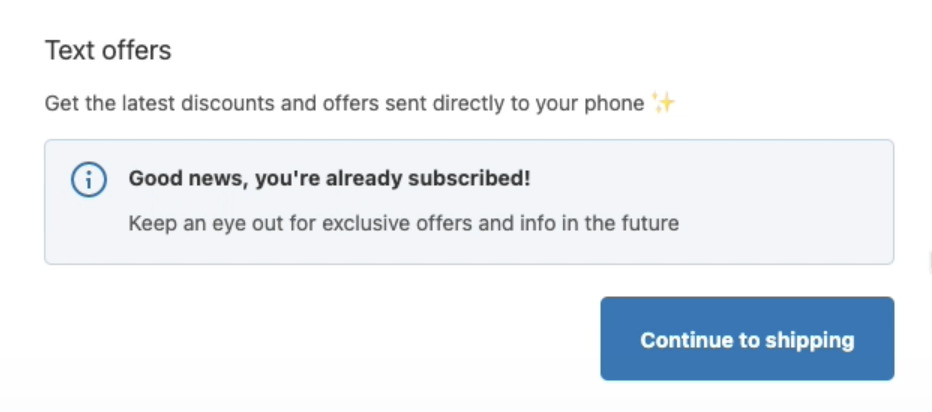 Before You Go
---
When opting in for the first time at checkout, you'll notice the green notification prompts the user to Reply Y. This is called Confirmed opt-in which we discuss more below:
Confirmed opt-in (also known as double opt-in) allows brands to require that subscribers confirm their desire to opt into recurring SMS marketing messages by replying "Y" to an initial text message. If Postscript does not receive a confirmed opt-in, then the number is not added as a subscriber. By employing confirmed opt-in, you can be sure to build a subscriber list that is verified and engaged, which ultimately will increase potential ROI while decreasing sending spend. Learn more about confirmed opt-in here.
Get Support
---
Have questions? Please feel free to reach out to our wonderful Support team at support@postscript.io or via live chat. You can also submit a support request here!
Need ongoing channel strategy guidance? Please fill out this form and we'll connect you to one of our certified partners.