Tip: Select any of the images or GIFs in this article for a closer look.
Until now, all messages sent by Postscript needed to be sent to a regular subscriber, meaning someone who opted-in to SMS marketing.
Moving forward, certain Postscript stores can send order-related, non-marketing texts to a new category of person: a transactional-only subscriber. Stores can send these messages if they use AfterShip and have an active integration. 
Similarities and Differences Between Regular and Transactional-Only Subscribers
---
Regular Subscribers. These subscribers have opted-in to SMS marketing messages from your store.
Transaction-Only Subscribers. These subscribers do not opt-in. A shop can send transactional messages to transactional-only subscribers without their explicit consent.
Postscript approves automations as transitional based on the automation trigger. Currently, only AfterShip triggers can be used but others may be added later. If Postscript has not approved a trigger as transactional, then you will not see the transactional option on the Automation Properties page.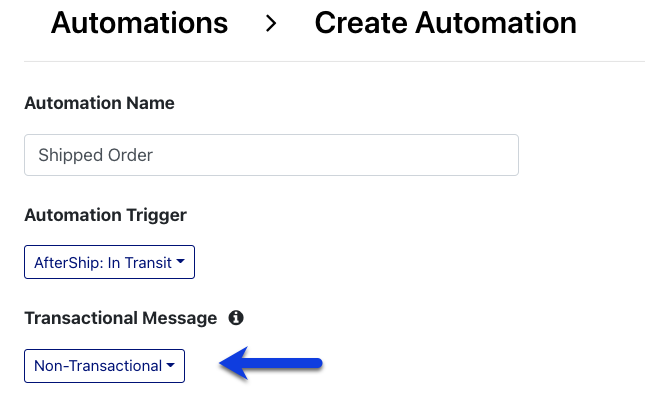 Transactional Automation Approval Process
---
Shops have to request an automation to be marked as transactional to ensure Postscript doesn't send marketing messages to individuals that have not opted in. You can make this request from the Automation Properties page when creating or updating an AfterShip automation.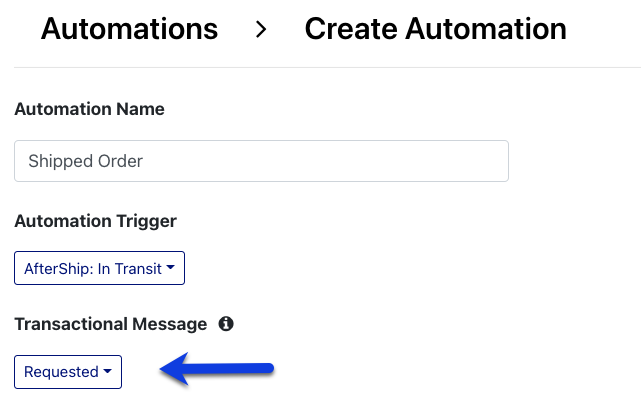 Once a shop makes a request and saves the automation, the message will be forwarded to the Postscript team for approval. The Postscript team will quickly review the copy and approve non-marketing-related messages.
Once the Postscript team approves, we mark the automation as approved for transactional. Transactional-only subscribers will immediately begin receiving the messages, and new transactional-only subscribers will be automatically created, as needed.
A shop can turn off the transactional setting, at which point delivery to transactional-only subscribers will end, as will the creation of new transactional-only subscribers. Delivery to regular subscribers will continue.
Transactional automations can only contain a single message with a short wait delay, like right after something is marked as being shipped or delivered.
Creation of Transactional-Only Subscribers
---
Transactional-Only subscribers are created on an as-needed basis, whenever the following are all true:
We have a phone number,
A trigger was triggered (like Order in Transit),
We were unable to find a regular subscriber to notify, and
The automation was approved for transactional messaging.
If any of those are not true, we will not create the Transactional-Only subscriber.
Upgrading a Subscriber
---
If a Transactional-Only subscriber opts in via a regular marketing process (e.g. keyword or checkout), Postscript will upgrade them to a regular subscriber. 
Get Support
---
Have questions? Please feel free to reach out to our wonderful Support team at support@postscript.io or via live chat. You can also submit a support request here!
Need ongoing channel strategy guidance? Please fill out this form and we'll connect you to one of our certified partners.