Tip: Select any of the images or GIFs in this article for a closer look.
Postscript centralizes responses from customers and makes it easy for you and your team to reach out. 
Why You Should Respond to Customers
---
Build rapport with your customers.
Respond to important inquiries in a timely and efficient matter.
Review conversation history and view images and screenshots.
View Customer Responses
---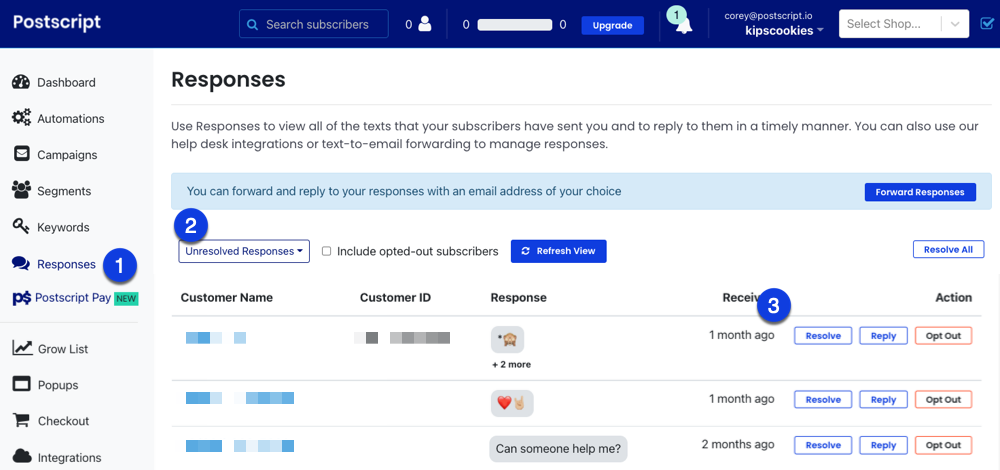 Select Responses in the side menu of your Postscript dashboard.
Filter which responses display. Options in this drop-down include All Responses, Unresolved Responses, and Resolved Responses. 
Choose whether to Resolve a response, Reply to a customer, or Opt Out a customer.
Respond to Customer Responses
---
You can respond to a customer by selecting Reply on the far-right of the response line, or by selecting the hyperlinked customer name or phone number.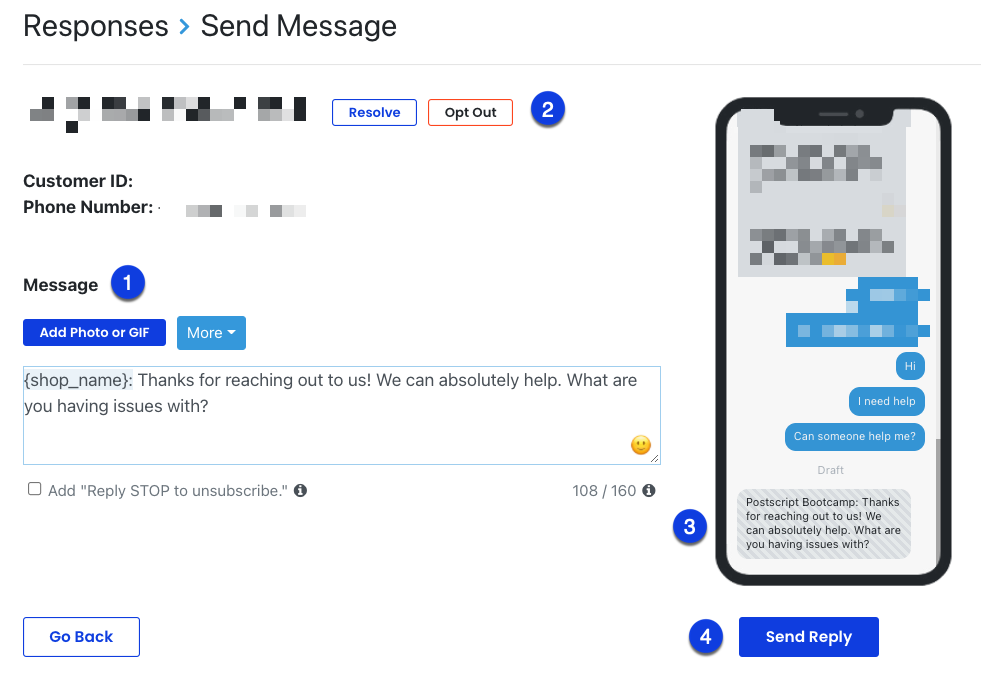 Choose whether to Resolve the response or Opt Out the customer.
You can customize your response with images, GIFS, or emojis if desired. Note that images and GIFS change your message to MMS (3 credits to send) and emojis reduce the amount of available characters. Learn more about message types, credits, and characters here.
Preview your message in the dynamic phone preview.
Select Send Reply to send your response to the customer. Note that sending a response will use credits just as sending a campaign or automation would.
Forward Customer Responses
---

Select Forward Responses in the top-right corner of the page.
Enter the Email Address to which you want to forward responses. You can respond to a customer via email and have it appear in their text thread.
Select Start Forwarding.
If you use a customer service platform such as Help Scout, Richpanel, or Kustomer, you can forward responses to your store's support email provided to you by the platform. Explore our other customer service integrations here.
Note:
If you choose to forward responses to an email but had previously configured an
auto-reply
for non-keyword responses, you will need to disable it. Auto-replies interfere with the forwarding process.
Get Support
---
Have questions? Please feel free to reach out to our wonderful Support team at support@postscript.io or via live chat. You can also submit a support request here!
Need ongoing channel strategy guidance? Please fill out this form and we'll connect you to one of our certified partners.