Tip: Select any of the images or GIFs in this article for a closer look.
While rare, telephone carriers may experience issues delivering MMS messages (i.e., messages containing images and/or GIFs). Historically, we've seen these issues cause degraded image quality or duplicate MMS messages sent to subscribers.
How Postscript Notifies You of Issues
---
We will always keep you in the loop when deliverability issues occur. When our system detects a carrier issue with MMS message delivery, we'll notify you within the Postscript app.
We have two banners, both of which will display at the top of the page.
Our gold banner indicates that our system recently detected issues with telephone carriers delivering MMS messages and we suspect those issues may occur again in the near future.

Our red banner indicates that our system currently detects issues with telephone carriers delivering MMS messages.

   Note: Issues with MMS deliverability do not affect SMS messages. This is because carriers use separate networks to deliver SMS (plain-text messages) and MMS (messages containing images and/or GIFs).
Addressing Deliverability Issues
---
As soon as our system recognizes that carriers are having issues delivering MMS messages, Postscript stops sending MMS messages.
Postscript also takes the following actions:
Temporarily prevents you from sending or scheduling new MMS campaigns. You can still send SMS campaigns by removing images or GIFs from the campaign.
Converts keyword replies and replies to MMS messages to SMS messages. Postscript will charge you the normal amount of credits for the SMS message but will not charge you over 3 credits per message. This ensures your message cost is less than or equal to the MMS message.
Converts current MMS automations and previously scheduled MMS campaigns to SMS messages. 
Pausing MMS Automations and Scheduled Campaigns
---
Postscript offers you the ability to pause previously scheduled MMS campaigns in the event of MMS deliverability issues rather than converting these messages to SMS. To access this setting, you store name in the top menu, then Account from the drop-down list. 

Locate the setting called Pause MMS messages instead of SMS fallback and select Edit to the right of it. This will make the checkbox selectable. Select the checkbox, then select Save.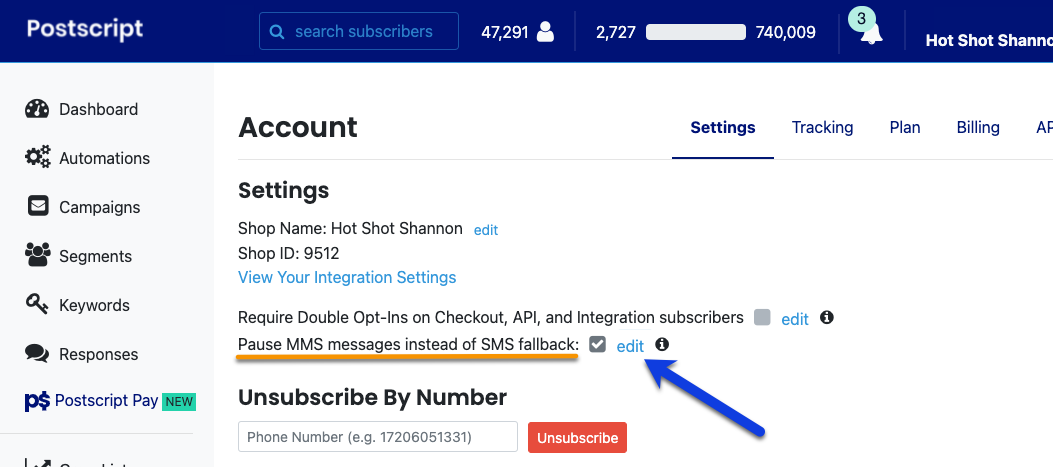 Note: We don't recommend enabling this setting if you often run time-sensitive campaigns. SMS messages perform just as well as MMS messages in most cases.
Get Support
---
Have questions? Please feel free to reach out to our wonderful Support team at support@postscript.io or via live chat. You can also submit a support request here!
Need ongoing channel strategy guidance? Please fill out this form and we'll connect you to one of our certified partners.