Tip: Select any of the images or GIFs in this article for a closer look.
At Postscript, we're always looking for ways to improve your day-to-day experience with our app. In fact, many of our best features are ones submitted to us by shops! If you would like to submit ideas or feedback to us, please read on. 
Submit integrations that would make your workflow easier.
Tell us about a feature or function that would improve your use of Postscript--doesn't matter how large or small.
See something in another program that you think would work well in Postscript? Tell us!
Let us know how you're experiencing Postscript as it exists today.
Submit Ideas and Feedback
---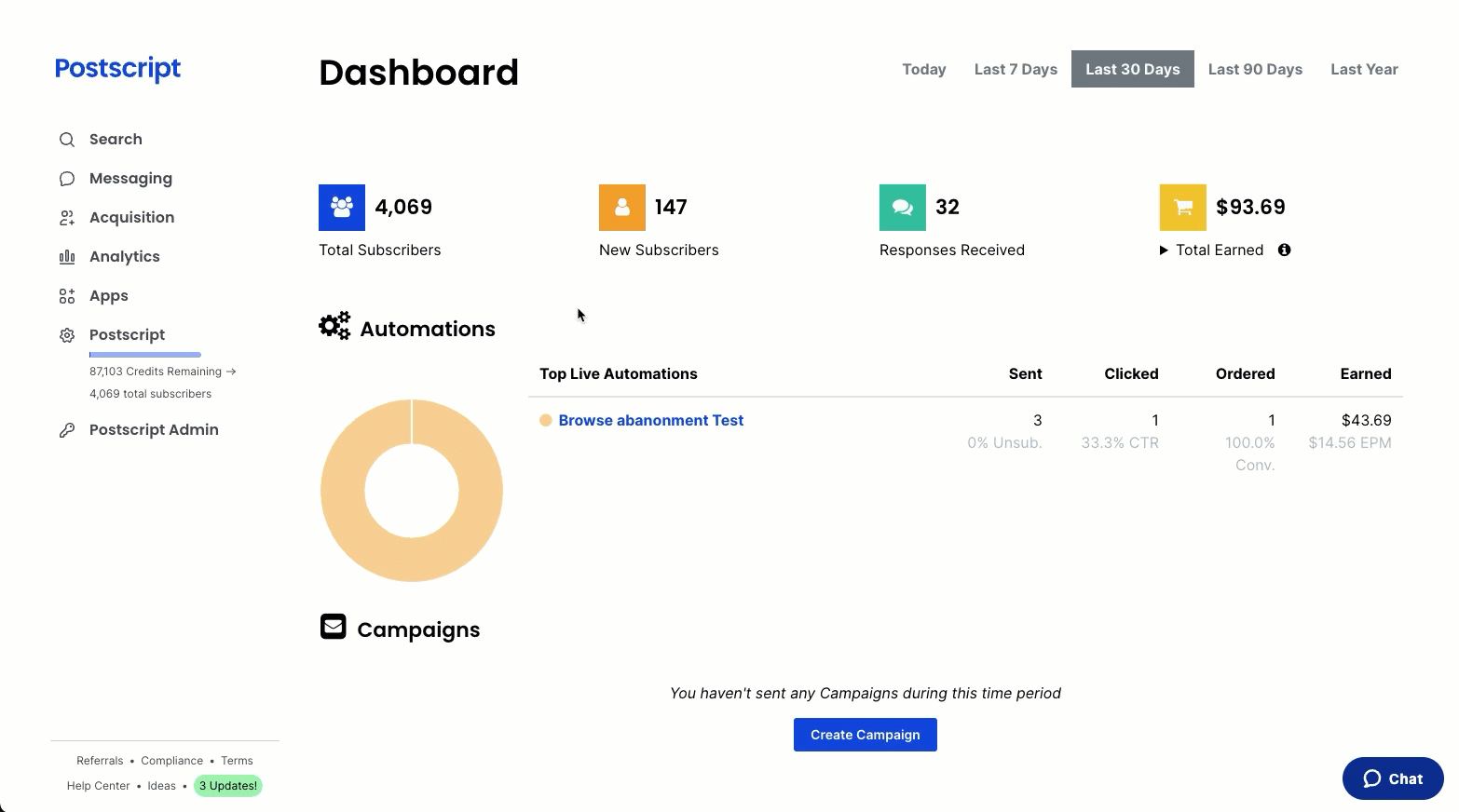 Select Ideas in the bottom-left corner of your Postscript dashboard.
In the top-right corner of the Postscript Product Portal, select + Submit idea.
Fill out the idea form. Make sure to assign an importance level and include your email. Once down, select Submit.
Note:
Only shops on the 10,000 credits plan ($100 plan) and above will see the
Ideas
link in the side menu. If you do not see the 
Ideas
tab, you can reach out to us in chat or
email our support team
to submit your request.
Postscript Product Portal
---
Our Product Portal displays ideas submitted by customers as well as ideas and tasks added by our product teams.

The Product Portal organizes and displays ideas in three categories:
Under Consideration. Engineers are not currently working on these features, but we do see value in them and are considering them for the future. 
Planned. Our teams either have these items scheduled for development or are currently developing them.
Launched. Features we've already released. It's a great way to see what previously submitted ideas we've put into Postscript for you.
Vote on Existing Ideas
---
We welcome your thoughts and feedback on ideas currently listed on our Under Consideration and Planned tabs.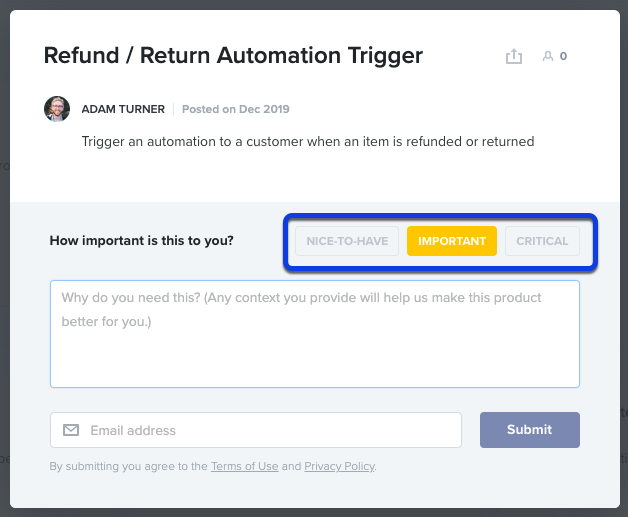 Select any card on either tab and let us know how important that request is to you. Choose from Nice-to-Have, Important, or Critical.
Provide any additional details or context, such as how a feature would affect your store (ex: improve your customers' experience, improve your productivity in the app, or increase ROI).
Enter your email so we can keep you updated on this request.
Select Submit.
Votes go straight to our engineering teams and help them better prioritize incoming development requests.
Get Support
---
Have questions? Please feel free to reach out to our wonderful Support team at support@postscript.io or via live chat. You can also submit a support request here!
Need ongoing channel strategy guidance? Please fill out this form and we'll connect you to one of our certified partners.