Cyber weekend is one of the most crucial list growth events of the year. Your shop will likely have exponentially more site visitors and therefore a higher chance of converting more visitors into subscribers.
This guide will offer pointers for creating a compelling popup, hone in on the types of popups you should use relative to where the site visitor is at in their customer journey, and guide you through how to schedule your popups so you can save time during one of the busiest times of the year.
Create a Compelling Popup
---
If you've been testing your popups throughout the year, this is the time to start implementing the copy, incentives, design, or timing that you've found to be most successful. If you're unfamiliar with how to get started building your popup, start here.
Keep in mind that your popup offer should be more enticing than your site-wide offer or subscribers won't be incentivized to sign up for email or SMS.
For example, if your site-wide offer is 40% off the whole store and your popup offer is free shipping, a subscriber may be enticed to take advantage of both the 40% off AND free shipping, and therefore sign up for SMS.
Whereas, if your popup offer is less enticing, for example, "Join to become a VIP member", and your site offer is 40% off, visitors may be less incentivized to sign up for email or SMS.
Popup Targeting
---
With Postscript popups, you are able to create multiple popups. You may consider using multiple unique popups depending on:
1. Site location. Use the Include Pages and Exclude Pages functionality of your Postscript popup to display different types of popups on isolated pages. For example, you may consider using an exit-intent popup for product pages or a banner on collection pages. 
2. Viewer location. Postscript popups allow you to target your Canadian viewers differently than your US viewers. For example, you may be able to offer free shipping for US visitors but would like to offer your Canadian visitors 20% off. Consider tailoring your popup experience based on where the site visitor is located.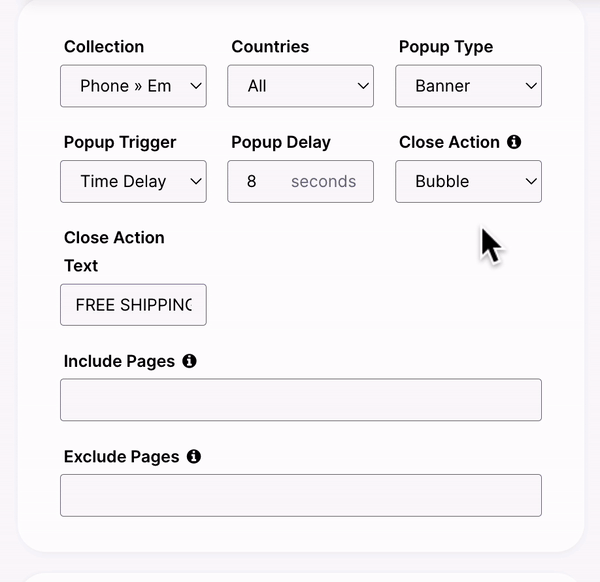 3. Types of popups. As mentioned above, using different types of popups tailored to the customer journey can help with optimizing opt-ins. For example, positioning a full-screen mobile popup on your homepage demands the whole attention of your site visitor at the very beginning of their customer journey. Using a partial popup on a collections or product page, after the subscriber has spent time browsing, may be more effective due to their increased level of engagement and intent.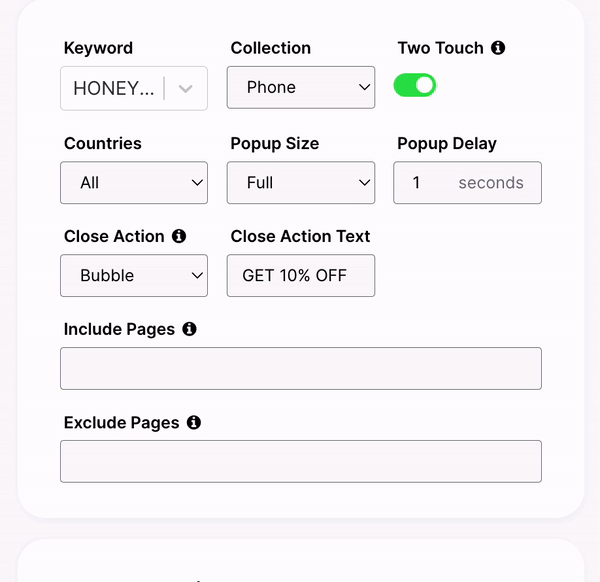 Scheduling Your Popups
---
During the busiest season of the year, you likely need every minute to manage your brand, acquire leads, support customers, and more. Scheduling your popups in advance can help you save time.
Let's take a look at the following popup schedule:
Black Friday-Specific Popup
Activate: Thursday, November 24th at midnight
Deactivate: Saturday, November 26th at midnight
Cyber Monday-Specific Popup
Activate: Sunday, November 27th at 6:00 AM
Deactivate: Monday, November 28th at midnight
Giving Tuesday-Specific Popup
Activate: Tuesday, November 29th at 6:00 AM
Deactivate: Wednesday, November 30th at midnight
With a popup schedule as involved as the example above, using the popup scheduling tool can be a tremendous time saver so you can spend more of your time focused on the operations of your business and less time activating and deactivating popups at just the right time. Learn how to schedule your popups here or check out the gif below.
Get Support
---
Have questions? Please feel free to reach out to our wonderful Support team at support@postscript.io or via live chat. You can also submit a support request here!
Need ongoing channel strategy guidance? Please fill out this form and we'll connect you to one of our certified partners.
Are you BFCM ready? Gear up for the 2022 holiday season with our Ultimate BFCM Planner for SMS Marketers! Get your copy here.